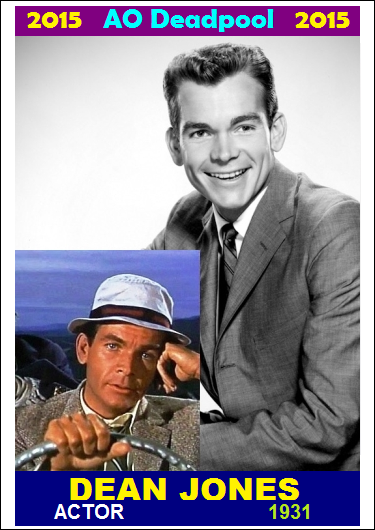 As a young boomer, going to the Saturday matinee quite often meant seeing the latest movie from Walt Disney Productions. It seemed that there were three major go-to guys for Disney flicks back then. If the role was too old for Kurt Russell and too young for Fred MacMurray, it undoubtedly went to Dean Jones. The comic actor starred in ten Disney films, opposite a cat, a duck, a horse, two dogs, a troop of monkeys, and, perhaps most famously, a Volkswagen.




Jones began his career as a singer and appeared in mostly forgettable movies throughout the 1950s. One exception was a small role as a disk jockey in the Elvis Presley vehicle Jailhouse Rock. In 1962, he played the title role in the military-themed TV comedy Ensign O'Toole, which aired Sunday nights on NBC, followed by Walt Disney's The Wonderful World of Color. Disney watched the end of his lead-in show, liked what he saw, and offered Jones a starring role in the 1965 movie That Darn Cat! Jones's association with Disney brought him lasting fame, peaking in 1969 with the hit The Love Bug, in which Jones played a struggling race-car driver who acquires a Volkswagen with human traits to win races for him. "I see something in [the Disney movies] that is pure form. Just entertainment. No preaching," he told the Los Angeles Times. "We're always looking for social significance, but maybe people just like to be entertained."




Jones's professional success extended back to TV, where he hosted a variety show, What's It All About, World?, in 1969, and to Broadway, where he originated the role of the vacillating bachelor Bobby in Stephen Sondheim's Company, earning him a place in Broadway history. But contrary to his wholesome Disney image, his personal life was coming apart. He was drinking heavily and having affairs. For a while, he was able to keep his torment largely separate from his work life, but weeks before the opening night of Company, Jones quit the show. Producer Hal Prince talked him into staying until opening night, and he continued in the role for a month, as well as recording the Grammy-winning cast album. Then he returned to Los Angeles, telling interviewers that he had been ill in New York, that he wanted to get back to Hollywood and Disney films. A few years later, while in a touring production of the musical 1776, he became a born-again Christian.
Jones continued to work in films and television, though not as much. He appeared in the Tom Clancy thriller
Clear and Present Danger
and in the drama/comedy
Other People's Money
, and it is a long-standing rumor that he was up for the role of Lex Luthor in 1978's
Superman
with Christopher Reeve. He also took on several religious-themed projects, including a touring one-man show,
St. John in Exile
, which was later filmed, and a musical about the Shroud of Turin that ran for six performances. He was sometimes critical of Hollywood and the entertainment industry. "Film and television have been partially responsible for the disconnect between our nation and our God," he told
Christianity Today
. In his 1982 autobiography, he wrote of
Company
: "It was a clever, bright show on the surface, but its underlying message declared that marriage was, at best, a vapid compromise, insoluble and finally destructive." But as serious about his religious messages as he was, he enjoyed getting laughs. "I'm remembering a time when I was on stage in a theater or in the back row of a movie house, and heard people laugh at some silliness I did, and how I felt humbled to be able to bring laughter to people," he told
Christianity Today
, "because, unless I'm sadly mistaken, you can't laugh and remember your problems at the same time."
In 1995, Jones was awarded a spot in the Disney Legends Hall of Fame. He died in Los Angeles on September 1, 2015, at the age of 84. He had been suffering from Parkinson's disease
.


As Dean Jones departs on an eternity tour of his own ("Herbie Goes to Heaven"?), Eternity Tours scores 5 points and 5 more for the solo.
--Eternity Tours
A
ll content (c) 2005-2015 alt.obituaries Deadpool. All rights reserved.