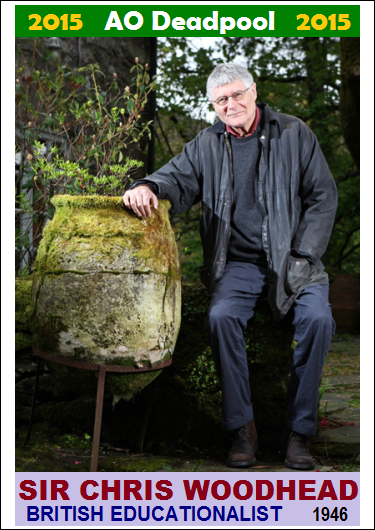 Sir Christopher Woodhead had a long career in education, first as a teacher of English, then as a university lecturer. He became an educational administrator and eventually the head of the Office for Standard
s in Education (OFSTED), with the job title of Chief Inspector of Schools.


He met his first wife, Cathy, while they were students at Bristol University, and they were married in 1969. They had a daughter in 1975 but were divorced the following year. During his last secondary school teaching post at Gordano School, near Bristol, he met Amanda Johnson, a pupil there. They always insisted that their nine-year affair started only when they had both left the school. He married his second wife, Christine, in 2006, and he was knighted in 2011.
Woodhead came to public prominence in 1994 when he was appointed Chief Inspector of Schools in England. As a teacher, he had espoused a progressive, "trendy" teaching style, but he reverted to being a champion of traditional teaching methods. He lost the goodwill of many teachers by claiming that there were 15,000 incompetent ones. There was increasing pressure on him to resign, but, surprisingly, he was reappointed by Labour education secretary David Blunkett in 1998. However, Woodhead did not approve of Labour's education policies, and eventually, in 2000, he stepped down.
In 2002, Woodhead returned to academia at the University of Buckingham. In 2006, he was diagnosed with motor neurone disease (ALS). He stated that he did not wish to suffer the latter stages of the disease and became a campaigner for assisted dying. It is not recorded whether he took the ice bucket challenge.
He contracted cancer in 2013 and died on June 23, 2015. Allezblancs and Ed V scored top marks: 11 points for the hit and 3 for the duet.
One minor quibble: Wikipedia and some of the obituaries I have read say that Woodhead was born in Cockfosters, London. Cockfosters wasn't in Greater London until the reorganization of local government in 1964, when it became part of the London Borough of Barnet. In 1946, when Woodhead was born, Cockfosters was very much in Hertfordshire. (I lived near there from 1961 to 1984.)
--Allezblancs
A
ll content (c) 2005-2015 alt.obituaries Deadpool. All rights reserved.