alt.obituaries Memorial Deadpool
est. 2005
Carl Djerassi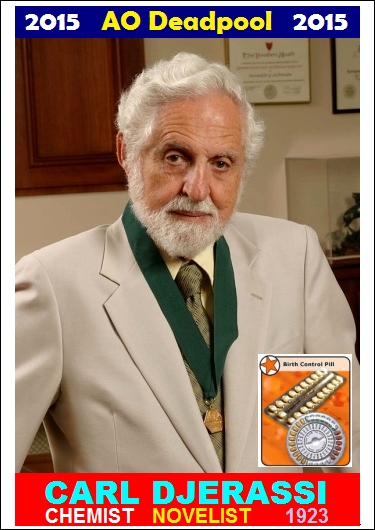 Carl Djerassi's biography could be split into three lives: the Bulgarian Jewish refugee, the American scientist, and the Austrian artist and author.


Born October 29, 1923, in Vienna, Austria, to Bulgarian Jewish parents, he grew up in Sofia, Bulgaria, until his parents got divorced and his mother moved back to Austria with him. Following the German annexation of Austria, the Djerassis married again, to make it possible to flee, first back to Bulgaria, then to the United States.




In the U.S., Djerassi started his scientific career, which led him to be one of the "fathers of birth control." His college education was promoted by Eleanor Roosevelt. In 1945, he earned both his Ph.D. in organic chemistry and his U.S. citizenship. With Luis E. Miramontes, Djerassi was able to synthesize the sexual hormone norethisterone. He developed the first anti-baby-pill in 1951, together with Gregory Pincus and John Rock. Since 1959, he worked at Stanford University.


Beside his academic work, Djerassi was known as a novelist, art collector, and nonfiction writer. He invented the "science-in-fiction" genre and wrote several poems and short stories as well. In 2004, he became an Austrian citizen, because of "special republican interests"; he was able to hold his American passport as well.


Carl Djerassi was married three times, twice divorced, and widowed since 2007. He had a daughter, who committed suicide in 1978, and a son. He died on January 30, 2015, in San Francisco, California, at the age of 91, following a battle with bone and liver cancer. He left his son, an extensive collection of Paul Klee's paintings, and 7 points for team WEP: 2 for the hit and 5 for the solo.
--WEP
A
ll content (c) 2005-2015 alt.obituaries Deadpool. All rights reserved.