alt.obituaries Memorial Deadpool
est. 2005
Bud Yorkin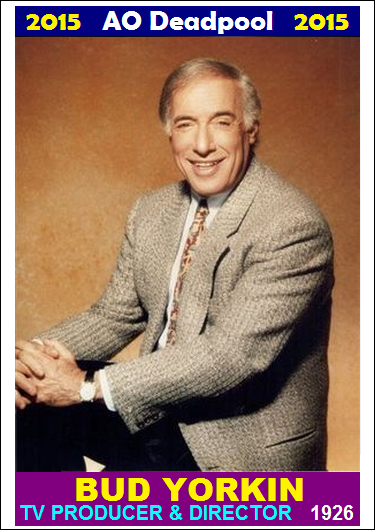 Alan David "Bud" Yorkin was a creative genius, a writer, director, and television pioneer. Yet today it seems he is mostly remembered as Norman Lear's business partner. Together, they executive produced classic TV shows such as

All in the Family

,

Sanford and Son

, and

Maude

, earning 25 Emmy wins and 10 Golden Globes, but Yorkin was inducted to the Television Academy Hall of Fame 18 years after Lear, an inaugural inductee.




Beginning his career as a stage manager, Yorkin got his first directing break with the

Colgate Comedy Hour

, featuring Dean Martin and Jerry Lewis, and won two Emmys for producing, directing, and writing

An Evening with Fred Astaire

, the first TV variety hour shot in color. His big-screen directing credits ranged from

Come Blow Your Horn

, starring Frank Sinatra, to the Ryan O'Neal/Jacqueline Bisset vehicle

The Thief Who Came to Dinner

.




When Yorkin was in England directing

Inspector Clouseau

—with Alan Arkin taking the Peter Sellers role—he saw the British sitcom

Till Death Do Us Part

, about the conflict between a bigoted father and his son. "I couldn't believe anybody could put that on television," he said. The show that Yorkin and Lear turned it into,

All in the Family

, was the first show to be #1 in the ratings for five years, with more than 50 million viewers (60% of the viewing public at the time) tuning in at its peak. The two producers later Americanized another British show,

Steptoe and Son

, about a British junk dealer; their version,

Sanford and Son

, starred Redd Foxx and won Yorkin two more Emmys.




Yorkin's legacy didn't stop at the small screen either. When director Ridley Scott ran into financial trouble on a little picture called

Blade Runner

, Yorkin helped raise funds to complete it and took over the copyright. Yorkin talked about a sequel for years, and Alcon Entertainment is currently working on one, with Harrison Ford returning to the cast and production planned to begin next summer.




Bud Yorkin died August 18, 2015, at the age of 89, at his home in Bel Air, after spending 18 months being treated for dementia. While most of the world (and many AO Deadpool players) may have forgotten him and his achievements, Happy No Year did not, claiming 5 points for the hit and 5 more for the solo. Cue the music . . ."Those were the days!"
--Happy No Year
A
ll content (c) 2005-2015 alt.obituaries Deadpool. All rights reserved.