B. B. King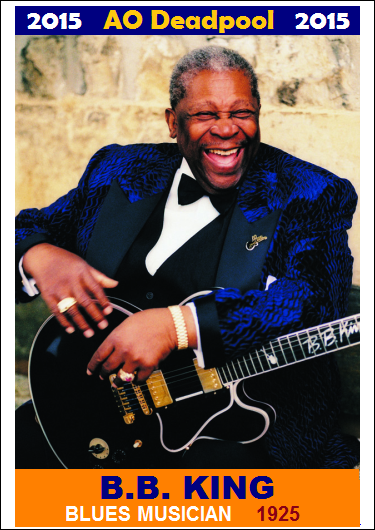 Since I saw the news this morning, been reading tributes, listening to tributes, listening to many folk here in town remembering Riley "B. B." King because he was a frequent visitor to the Houston area, and thinking about tributes. Posted a FB tribute and liked or shared dozens of others, watched my local and international musician and radio friends do the same.
Should have started getting thoughts in order two weeks ago, I guess, when I had to explain a dozen times or so that it was Ben E. who died, and B. B. who had been released from the hospital into home hospice care.
Appreciated a simple but good timeline on the life at
http://bg.buddyguy.com/the-life-of-b-b-king-an-interactive-timeline/
, so will throw that in for the history and background.
Decided that the reason a lot of us here in Houston are feeling this personally is because so many of his band members came from here. May also explain why he performed here so often—give them some time at home. There seem to be a lot of cities feeling the same way. Proof King was an honest-to-gosh "citizen of the world."


I've got just enough time to get over to the neighborhood blues and zydeco bar before

tonight's

band starts, and I can really use a fix of live blues

tonight

. So a final thought: He really was the King—and the thrill will never be gone even if he is in the high cotton now. Thank you, Mr. Riley.
--Team Bubba
A
ll content (c) 2005-2015 alt.obituaries Deadpool. All rights reserved.