alt.obituaries Memorial Deadpool
est. 2005
Al Arbour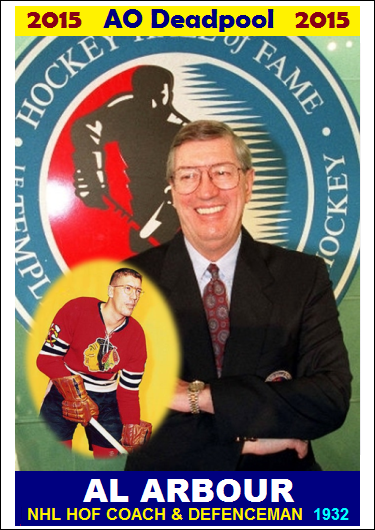 Not much was happening in Sudbury, Ontario, during the winter of 1932. About the only noteworthy event occurred on
November 1st
of that year, when one Al Arbour was born. Al always wanted to be a hockey player. The one problem was that he wore glasses. He became one of the few NHLers to wear glasses on the ice; in fact, he was the last man to ever wear glasses on the ice in an NHL game.




Al joined the Detroit Red Wings in 1953 and went on to play 626 games with Detroit, Chicago, Toronto, and St. Louis, winning four Stanley Cups as a player. He is one of only 11 players to win consecutive Cups with different teams, and one of only 10 players to win Cups with three different teams.




In 1967, Al was drafted by St. Louis and named their first captain. In 1970, he retired as a player and became the head coach with St. Louis; he lasted 107 games. He then became coach of the New York Islanders in 1973, coaching them until 1986 and then again from '88 to '94. He coached them to four Stanley Cups. In the 2007 season, he was allowed to coach the Islanders in the final game of the season, giving him 1500 games coached. That game also made him, at age 75, the oldest person to ever coach an NHL game. His 1500 games coached and 740 wins leave him 2nd all-time in both categories (to Scotty Bowman). He was elected to the Hall of Fame in 1996.

I scored on a breakaway with a nice solo rush to nab 10 points (5 for age + 5 for solo).
--Direcorbie
A
ll content (c) 2005-2015 alt.obituaries Deadpool. All rights reserved.