alt.obituaries Memorial Deadpool
est. 2005
Ahmad (Real) Givens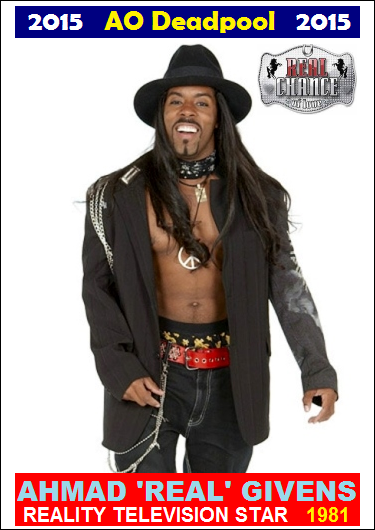 I thoroughly despise reality TV. Reality shows have infested the American airwaves ever since

Survivor

premiered on CBS, complete with Richard Hatch's tax-dodging naked ass. I don't give a happy monkey fuck about

Survivor

,

Big Brother

,

American Idol

,

The X Factor

,

The Voice

,

The Bachelor

,

America's Funniest Groin Hits

, whatever Nick Cannon is hosting now, or the rest of this vapid and mind-rotting shit.




You have to look long before

Survivor

was a twinkle in Mark Burnett's eye in order to find American reality series that were halfway decent.

American Gladiators

was the ultimate physical competition and standard Saturday-afternoon fare for kids like me. Ed McMahon introduced us to an endless list of iconic stand-up comedians on

Star Search

. Robin Leach gushed over the million-dollar yachts and vacation homes on

Lifestyles of the Rich and Famous

. But Allen Funt could probably be considered the patron of reality TV, as his

Candid Camera

has been a part of pop culture for over 65 years.




The last reality show I ever watched was a one-season offering from VH1 called

Real and Chance: The Legend Hunters

. The ten episodes that aired from September to November 2010 were presented by Ahmad "Real" Givens and his younger brother, Kamal "Chance" Givens. The two brothers traveled around the world to embark on humorous and often dangerous quests for plus-sized and deadly creatures, real and mythical alike. Their qualifications to host a nature series were absolutely zero, which is what made the show so entertaining (to me, at least). As written on VH1's website: "They're scared of bugs, bats, frogs, and almost anything that slithers or crawls. They can't take a fish off a hook because slimy things scare them . . . They can't use a compass, set up a tent, or build a fire. And it's true that the only plant they can identify is the kind that comes rolled up in a Ziploc baggie. But, these boys do have heart and an unchecked desire to discover things that freak them out."




Real and Chance had previously appeared on four of VH1's reality dating competitions:

I Love New York

,

I Love Money

,

Real Chance of Love

, and

Real Chance of Love 2

. They were to dating shows what Chuck Woolery was to dating shows.




Since 2006, Real and Chance—along with another brother, Micah—made up the independent rap group The Stallionaires (a portmanteau of "stallion" and "millionaires," to reference their upbringing on a horse ranch in northern California). Along with performing, writing, and producing their own music, they also worked for more famous artists, ranging from 50 Cent to Michael Jackson to Kirk Franklin. A resume that more than qualifies anybody for a Fireball obituary . . . even though, above all else, he was "Another Goddamn Rapper Not On My Deadpool ListŪ."




Although Real didn't find his true love on VH1, he did find true love in the real world. He got married and had a son after the cancellation of the last Real and Chance series. He later starred on his own web series,

One Warm Night

, which premiered in 2012. He was notable for his long silky hair, contrasting with brother Chance's cornrows. That led to a lucrative business venture, as Real and his stylist, Jovonna Morrison, sold their own line of hair-care products. The Givens brothers were also about to introduce their own clothing line later this year, called S.M.A.K. (appropriately short for "Stallionaires Micah Ahmad Kamal").




Late in 2013, Real was diagnosed with stage 4 colon cancer. He had surgery shortly afterward, and even posted the picture of his large vertical abdominal scar on his Instagram feed to show his thousands of followers that he was determined to beat cancer. His cancer returned aggressively late last year, which forced him to undergo chemotherapy. His physical condition worsened last month, around his birthday. Although he (and his doctors) knew that the end was near, he remained optimistic on life. While visiting with family on February 20, he suddenly had difficulty with his speech and complained that he had gone blind. That night, while surrounded by his loved ones, he quietly passed away.




Ahmad Givens was indeed Real. A real entertainer and a real fighter in a world of bullshit reality TV.




Deceased Hose and Gerard Tierney took a real chance on Givens this year. Gerard wasn't really taking a chance because I still contend that he's been bumping them off himself. Givens died at age 35*, making him 2015's youngest hit so far. 20 points for age in the 30s and a bonus 3 for the duet.




*The media incorrectly reported Real's age as 33, which is actually brother Chance's age. Real's official Facebook page gives his birthdate as January 8, 1980. This doesn't affect the points awarded in this game . . . unless somebody famous dies at age 34 and impacts the year-end bonus, in which case we're all fucked.
--Fireball
A
ll content (c) 2005-2015 alt.obituaries Deadpool. All rights reserved.