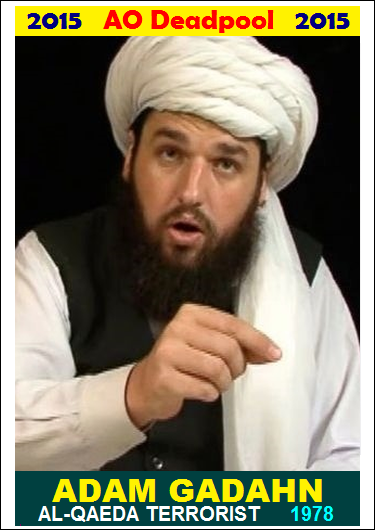 Adam Gadahn's paternal grandfather, urologist Carl Pearlman, sat on the Board of Directors
of the Anti-Defamation League.
His paternal grandmother, nee Agnes Branch, edited The Christian Family Chronicles.
His father, Philip Pearlman, converted to Christianity while in college.
His mother, Jennifer, based his homeschooling on Christian homeschool groups.
Then they changed their surname to Gadahn, to honor the Biblical Gideon.
So of course their death-metal-loving son converted to Sunni
Islam and became bin Laden's senior advisor for translation, video production

,
and cultural interpretation.


For years, Adam (as "Azzam the American") appeared in propaganda videos intended
to inspire others to join his cause.
That is, of course, until he was blasted to bits by a U.S. drone strike on January 19,
2015, in Pakistan.


Fuck you, Adam Pearlman Azzam Gadahn or whatever the hell you called yourself.
Even an atheist hopes you rot in hell.
--Koko-Moxie
A
ll content (c)2005-2015 alt.obituaries Deadpool. All rights reserved.