alt.obituaries Memorial Deadpool
est. 2005
Aaron Shikler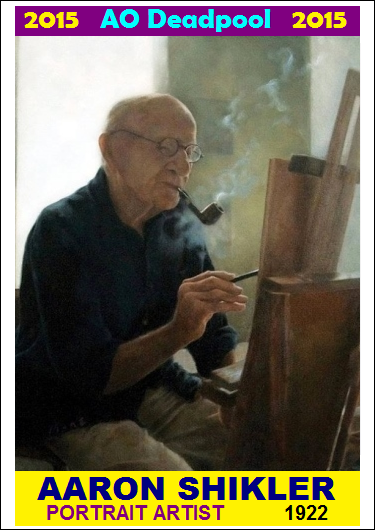 Aaron Shikler was a prolific painter, best known for his portraits of government officials and other prominent individuals. Though it's likely most wouldn't know the name, one will recognize at least one of his works, that being John F. Kennedy's official White House portrait.


For an artist tied to high society, Shikler's early career wasn't so illustrious. His first commissioned portrait was rejected, and many of his early works were of ballerinas and clowns, painted for the sake of money. He was so repulsed by the kitschy subject matter that he snarkily signed these works as "Phil I. Steen." He hit a lucky break when his work caught the eye of philanthropist Jane Engelhard, which opened up new opportunities for Shikler to paint many figures of note.


Jackie Kennedy (by then a widow, not yet an Onassis) became a fan of Shikler after seeing his paintings of Peter and Patricia Kennedy Lawford's children. From there, Shikler painted pastel portraits of Jackie and her children, and she later commissioned him to paint the White House portraits for both herself and John F. Kennedy.


His portrait of President Kennedy was unveiled in 1970, seven years after Kennedy's assassination. A photo of Ted Kennedy at his brother's grave inspired the pose. In contrast to most presidential portraits, which look at the viewer or to the side and which Shikler considered "God-forsaken postage-stamp portraits," his Kennedy is pensive and looking downward. This was done not with the intent to mourn Kennedy, but to capture the rarity of, in Shikler's words, "a president who was a thinker."


He also painted President-elect Reagan—who, at one point, dozed off during their session—for the cover of
Time
magazine
. Shikler once again used a "thinker" pose; however, Nancy Reagan wasn't too keen on it. Although Nancy still commissioned Shikler to paint her official White House portrait, Ronald Reagan went to a different artist (that artist, Everett Kinstler, is still alive, four years Shikler's junior).


Shikler died on November 12, aged 93, after suffering from kidney failure. Jefferson Survives receives 7 points (2 for age, 5 for solo).
--Jefferson Survives
A
ll content (c) 2005-2015 alt.obituaries Deadpool. All rights reserved.