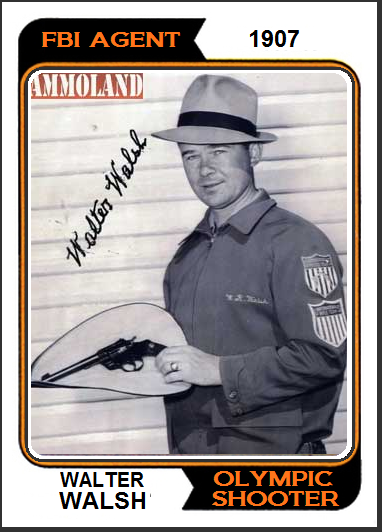 Walter Walsh's Olympic participation in 1948 seems like a footnote to a life of experiences known by few men. Born in New Jersey, Walsh graduated from Rutgers Law School and in 1934 joined the FBI. A year later he was on a stakeout team in Chicago that apprehended Doc Barker, one of the most wanted criminals in the United States. Acting on a tip that same year, he discovered the body of Chicago gangster Baby Face Nelson, who died of injuries sustained in a gun battle with police in Barrington, Illinois. Two years later he was involved in a shootout in Bangor, Maine, with Al Brady, who at the time was Public Enemy #1, and who was killed during the shootout. In total, during his tenure with the agency, he killed between 11 and 17 suspects.
In 1935 he joined the FBI pistol team. Within three years, FBI Director J. Edgar Hoover had presented him with two marksmanship trophies. In 1939, at Camp Ritchie, he set a world record in pistol shooting, with 198 points out of a possible 200. He won individual regional pistol championships in 1939 and 1940 and placed second in 1941 after leading for most of the tournament.
Walsh was employed by the FBI until 1942, when he joined the U.S. Marine Corps in World War II as a Reserve Marine Lieutenant. (After he left, Director Hoover refused to allow any more active agents to join any military reserves.) He fought on Okinawa and in North China. once killing a sniper from 90 yards away with a single shot to the torso from an M1911 pistol. He rose to the rank of Colonel, and, at war's end, returned to the FBI.
At the 1948 Summer Olympics in London, he placed 12th in the Men's Free Pistol (50 meters) competition, and at the 1952 International Shooting Sport Federation (ISSF) World Shooting Championships, he won a gold medal in the 25m Center-Fire Pistol event, along with the rest of the U.S. team, and a silver medal in the individual version of that event. He was also selected five times for the All-American Pistol Shooting Team. After winning many tournaments within the Marine Corps, he became commander of its marksmanship training and held that position until his retirement in the 1970s.
He was still receiving awards for his marksmanship in his 90s, such as winning Outstanding American Handgunner of the Year in 1997. He served as a coach for the Olympic shooting team until 2000, and was able to see without glasses even then. When the FBI celebrated its 100th anniversary in 2007, Walsh was still around, noting that he was older than the agency itself. In March 2013 he surpassed Rudy Schrader to become the longest-lived Olympian of all time. He died at his home in Arlington, Virginia, on April 29, 2014, less than a week before his 107th birthday.
Eternity Tours hits the target for 6 points (1 for hit + 5 for solo).

--Eternity Tours

A
ll content (c) 2005-2014 alt.obituaries Deadpool. All rights reserved.