alt.obituaries Memorial Deadpool
est. 2005
Steve Rossi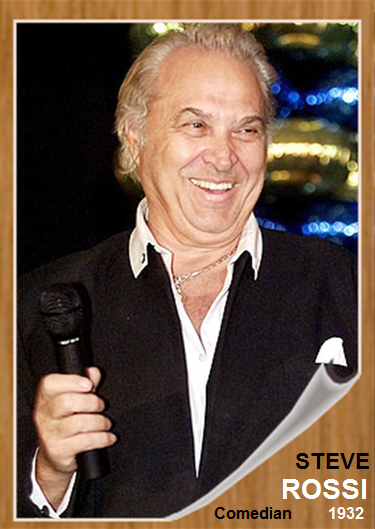 My parents and all the adults in their social circle were big fans of Allen & Rossi. If someone had asked me to bet on how often Allen & Rossi appeared on

The Ed Sullivan Show

, I'd have bet they appeared every other week. I'd have lost, too; Allen & Rossi were only on Sullivan's show 28 times. They appeared on lots of other shows as well:

The Tonight Show with Johnny Carson

,

The Merv Griffin Show

,

The Mike Douglas Show

,

Dinah

,

The Dean Martin Show

, and

The Perry Como Show

.




Steve Rossi was performing with the Los Angeles Civic Light Opera in 1953 when he was hired by Mae West to appear in her nightclub act. She gave him his stage name (he was born Joseph Charles Michael Tafarella); his first name came from actor Steve Cochran and the last name was adapted from her manager, Bernie Ross.




At their peak, Allen & Rossi were as famous as any entertainment partnership in the country. They teamed in 1957 when Nat King Cole suggested Rossi pair up with Marty Allen. Rossi's cool, handsome, and composed disposition was a hilariously jarring contrast to Allen's goofy, wild-haired presentation. Marty Allen, who was ten years older than Rossi and is still performing at age 92, said Rossi was a wonderful straight man and a dear friend.




After Allen & Rossi broke up, Steve Rossi continued entertaining, including appearances on Howard Stern's show.




I can't say I was a big fan of Allen & Rossi. Even when I was a kid I didn't get why they were so popular. When you could watch Rowan & Martin, why bother with Allen & Rossi? All I know is that all the adults who cared about me when I was a kid thought Allen & Rossi were an amazingly talented duo, so I'm writing this obit in their memories.

--Kixco

A
ll content (c) 2005-2014 alt.obituaries Deadpool. All rights reserved.