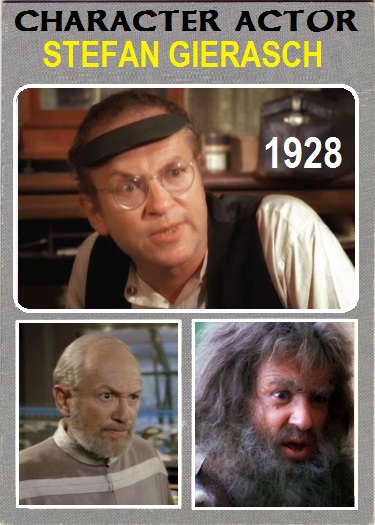 In 2014, we lost another "that guy"!
You know him. The somewhat-comforting figure who guest-starred on episodic television and whose presence most often meant "HE did it!"
Stefan Gierasch's career started in 1952, as an attendant on one episode of Mr. Peepers. Three roles on Goodyear Playhouse, a Studio One, and Play of the Week still didn't kickstart a leading-man career. When the playwright-driven hours died out, he guest-starred on most of the high-rated series of the 1960s. In 1962, he was Cooker on The Untouchables, and a year later he was back as Gil Kellerman on the same show (with some Dr. Kildare, Alfred Hitchcock, and Arrest and Trial mixed in).
His most-remembered role is likely the small part that touched off a series of wild events when he faced off with Sissy Spacek in Carrie:
Mr. Morton: "We're all sorry about this incident, Cassie."
Carrie: "It's CARRIE!"
Gierasch's last role came in 2009's The Hunter's Moon, where he was credited third (with Wes Studi in the lead). He'd have been 82 or 83 during filming.
Born on February 5, 1926, in New York City, Gierasch was married twice. He died on September 6, 2014, in Santa Monica, California. He is survived by three children and his wife, Hedy Sontag.
--Koko-Moxie
A
ll content (c) 2005-2014 alt.obituaries Deadpool. All rights reserved.