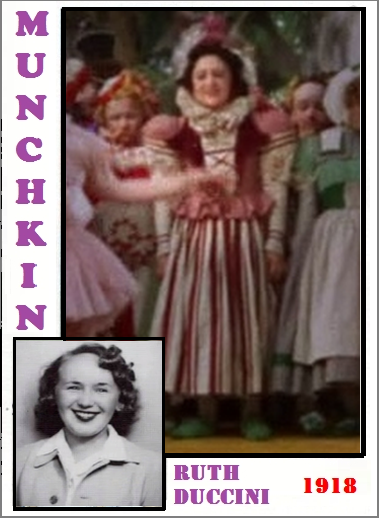 Ruth Robinson Duccini, an American actress, was the last surviving female actor from the 1939 film
The Wizard of Oz
, and the oldest surviving performer from the film. Official word of her passing was issued by the Munchkinland Coroner with the following decree:
"As coroner, I search for truth.
I thoroughly examined Ruth,
And she's not only merely dead,
She's really, most sincerely dead!"

Ruth was paid $125 a week for her portrayal of a Munchkin villager, a part that she was born to play, but that went uncredited. During World War II, she worked in a U.S. defense plant manufacturing airplanes. "I was a Rosie the Riveter," she said. "I'm really proud of that." She enjoyed attending

Oz

conventions and was present at the unveiling of the Munchkins' star on the Hollywood Walk of Fame in 2007. She was also featured in the 1981 film

Under the Rainbow

, starring Chevy Chase. She cashed in her chips while under hospice care in Las Vegas, ironically the home of the MGM Grand Hotel.

Ruth was preceded in death by 122 fellow citizens of Munchkinland and friends Dorothy Gale of Kansas, the Scarecrow, the Tin Man, the Cowardly Lion, Glinda the Good, and the Wizard, all of Oz. They have prepared her way and welcome her to the Emerald City in the sky. It is doubtful that the Wicked Witch sisters of the South and West will be in attendance. Ruth is survived by one remaining Munchkin citizen, Jerry Maren of California.

Ruth took her final walk down the Yellow Brick Road on January 16, 2014. She was 95. Eternity Tours gets 7 points (2 for the hit + 5 for the solo).

--Eternity Tours

A
ll content (c) 2005-2014 alt.obituaries Deadpool. All rights reserved.