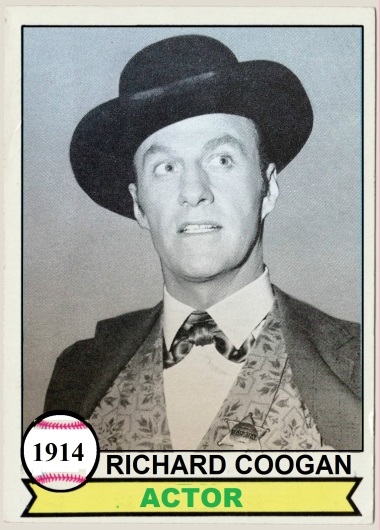 Richard Coogan, star of the Dumont Television Network show
Captain Video and His Video Rangers
, died on Wednesday, March 12, in Los Angeles, aged 99.
Coogan was appearing on Broadway with Mae West in
Diamond Lil
when he took the role of Captain Video on June 27, 1949.


"

Captain Video and His Video Rangers

started off from scratch, no advance notice or publicity. It caught on so rapidly that we caught up with Milton Berle's rating, and he was Mr. Television!" Coogan exclaimed in a 2003 interview with the Archive of American Television.

"The fathers in my neighborhood used to take their children to a nearby bar and grill to see

Captain Video

, whenever they had time. The owner would stop serving any drinks during that half hour. And what happened then? A lot of families got television sets, just so Father wouldn't miss the Captain's latest adventure in Electronicland."

Dissatisfied with the $50/week production budget allotted to

Captain Video

, and unable to balance the daily demands of the program with his theatre gigs, Coogan quit and was replaced by Al Hodge. Coogan then moved to the soap opera

Love of Life

, portraying Paul Raven.

Born in Short Hills, New Jersey, Coogan worked in radio for some time before his debut on the then-young medium of television. He appeared in the films

Girl on the Run

,

Nine Hours to Kill

,

The Revolt of Mamie Stover

, and others before returning to television in a starring role as Marshal Matthew Wayne on

The Californians

. He appeared in mostly western TV series and some guest roles before retiring from the medium in 1963.

In 2010, at age 96, Coogan was teaching kids golf and running a monthly tournament that raised funds for a children's center.

Survivors include his son Richard Jr., daughter-in-law Debbie, granddaughter Melissa, grandson Christopher, great-grandchildren Keira and Dylan, and "soul mate" Leona.

Keister Button scores 7 points with this hit (2 for hit + 5 for solo).
--Keister Button
A
ll content (c) 2005-2014 alt.obituaries Deadpool. All rights reserved.