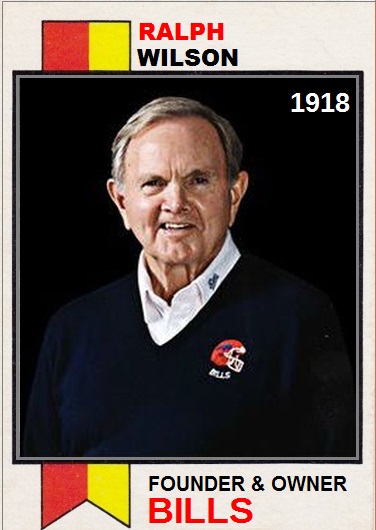 Ralph C. Wilson, the only owner the Buffalo Bills NFL team had ever known, died on March 25, 2014, at his home in Grosse Pointe Shores, MI, at the age of 95. Although he owned the team for 54 years, he always resided in the Detroit area. Wilson was one of only three owners in NFL history to continuously own a team for such a long period; the others were Bud Adams, who owned the Oilers/Titans, and George Halas, who owned the Bears (for 63 years!). Adams died last October.
Wilson had been a part owner of the NFL's Detroit Lions before he got involved in the formation of the rival American Football League. When the AFL was forming in 1959, he first applied for a franchise in Miami. He was turned down, but tried again and received the rights for Buffalo. His teams have a 376-436-8 record in 54 seasons and won two AFL Championships, in 1964 and '65. Jack Kemp was the quarterback on those teams.
He invested $25,000 in the initial franchise fee; the team has been estimated to be worth $875,000,000 today. Buddy Gleason of the
Buffalo News
wrote, "Wilson was a sweetheart of a man, who got a sweetheart of a deal." Although for years the Bills have been rumored to be moving to Toronto or another city, Wilson kept the team in the NFL's second-smallest market, and voted against every other franchise relocation that the NFL ever considered. In 1962, he loaned the Oakland Raiders $400,000 to keep them afloat.
Wilson was known as a "player's owner" and was very involved in team management. He attended practices and was a fixture in the locker room. The players said he wasn't aloof and never took a "big me, little you" approach with anyone. When the Bills went to a record four straight Super Bowls (1990–1993, losing them all), Wilson was said to have taken every Bills employee to the Super Bowl games, all expenses paid. He was also known to be generous in his philanthropy, supporting many Western New York charities but, interestingly, none in Michigan, where he lived. He spread his money around, often supporting "underdog" causes, and reportedly did not make a big deal about it. (However, his name is on some medical buildings.)
Ralph Cookerly Wilson Jr. was born in Columbus, OH, on October 17, 1918. His father was a successful insurance salesman, and the Ralph C. Wilson Insurance Agency still exists today. After graduating from the University of Virginia, Wilson entered the University of Michigan Law School in 1940. His time at UM was cut short by service in the Navy in World War II, where he served on a minesweeper until 1946. After the war, he joined his father at the insurance agency, where he diversified the business to include manufacturing, mines, trucking, and radio stations. He called himself a risk taker and apparently became very wealthy by following this strategy. It probably helped that his father was wealthy, too.
Wilson was married three times and had three daughters. His daughter Linda (Bogdan) was active with the Bills, became the first female scout in the NFL, and held the position of Vice President of Scouting; she died in 2009 of cancer. Wilson is survived by his third wife, Mary, and his other two daughters, Christy and Edith.
Wilson was inducted into the Pro Football Hall of Fame in 2009. He was known as a good storyteller, often telling stories about himself. In his HOF induction speech, he told a favorite story about a halftime pep talk he gave in the Bills' first preseason. His team was down by two touchdowns at the half; they lost by three touchdowns. After the game, his new coach told him, "Next time, please talk to the other team."


--Exuma

A
ll content (c) 2005-2014 alt.obituaries Deadpool. All rights reserved.