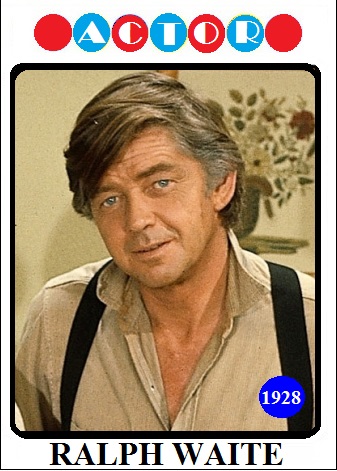 Ralph Waite's career started in the late 1960s and ended shortly before his death, but his name will always be connected with one series:
The Waltons
.
Waite, born June 22, 1928, in White Plains, New York, played the main role of family patriarch John "Pa" Walton, Sr., in the CBS series from 1971 to 1981, directing three episodes as well. The series showed the life of a Virginia-based couple, their oldest son John-Boy, and his six siblings, presenting
everyday subjects as well as the impact of World War II on the family.

The program was honored with an Emmy in 1973, as were some of its actors, but unfortunately not Waite, despite being nominated twice. He later starred in several television series, including a recurring role on

Days of Our Lives

.

Waite was also an active Democrat and ran for Congress unsuccessfully three times: in 1990 in Riverside County and in 1998 in two districts. He tried to win Sonny Bono's vacant seat in Palm Springs in a special election, but was beaten by Bono's widow.

Ralph Waite died on February 13, 2014, in Palm Desert, California, at the age of 85. His death earns Meadow 10 points (5 for age, 5 for solo).

Goodnight, Pa!

--WEP

A
ll content (c) 2005-2014 alt.obituaries Deadpool. All rights reserved.