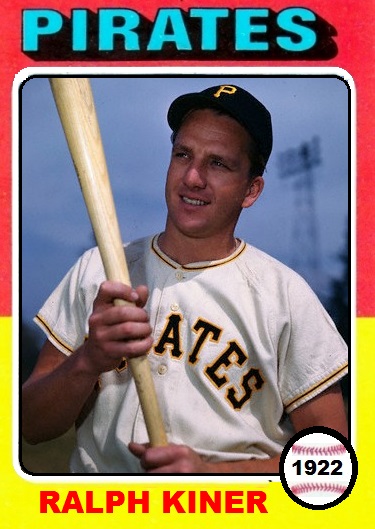 Ralph Kiner was a Hall of Fame outfielder/first baseman for the Pittsburgh Pirates. He also played (briefly) for the Cubs and the Indians. He died in February at the age of 91.
I saw Ralph Kiner at PNC Park in Pittsburgh, I think, eight or nine years ago. He was part of some kind of Greatest Living Pirates celebration—I don't know what it was—I don't remember. Bill Mazeroski was there, maybe Bill Virdon ... what the hell, maybe even Omar Moreno. There was no Dave Parker, I remember that. But this is what I do remember: there was a short, polite applause for everyone except Mazeroski. As usual, Pittsburgh went bat-shit crazy when Maz's name was announced. I thought at the time, "These people don't even know who Ralph Kiner is." If the Pirates have a Mt. Rushmore, Kiner is arguably one of the four.
I bring all of this up because Kiner was beloved in New York City, a city he never played baseball for. But he was the voice of the Mets since, I don't know, maybe the 1830s.
Where I grew up, 100 miles north of Pittsburgh and 100 miles east of Cleveland, there were three baseball players most kids pretended to be during sandlot games or when playing Indian ball: Mickey Mantle, Rocky Colavito, and Ralph Kiner.
Bill Schenley (me), Fireball, Kixco, and TGV each get 2 points. I'd rather have Ralph.


--Bill Schenley

A
ll content (c) 2005-2014 alt.obituaries Deadpool. All rights reserved.