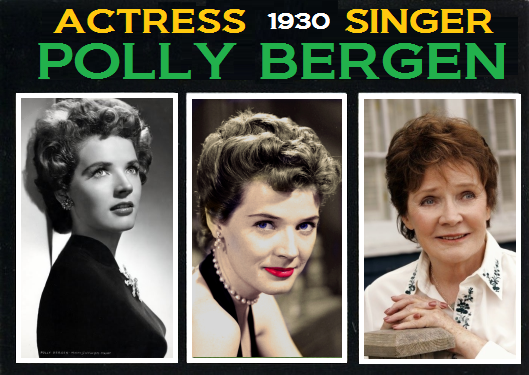 Polly Bergen, 84, noted women's-rights activist, died on September 20, 2014, at her Connecticut home, from "50 years of smoking" (as some news reports stated). She was born July 14, 1930, in Knoxville, Tennessee. How long would she have lived if she hadn't smoked?
A strong businesswoman, she owned a successful cosmetics company that was later sold to Faberge. Her books, each encouraging women to both be b
eautiful and support feminist causes, were big sellers.
But it was her political support for women's reproductive rights, in a time when few dared to speak up, that opened the door to others. Her support of Planned Parenthood and the Equal Rights Amendment was family-centered. When her marriage to Freddie Fields produced no children, the couple adopted two. Her manager, Jan McCormack, explained Polly best when she said, "She wanted kids to be born because they were wanted and needed, and not at random." With Fields's child from a previous marriage, the couple had the perfect "three" of the period.
Polly always believed that she'd live to see the first female President of the United States; her support for Hillary Clinton in the 2008 elections was so strong that Polly walked neighborhoods, rang doorbells, and urged people to vote for Clinton.
She was literally "a tough old bird." Just not tough enough to see her final dream come true.
Here
's Polly with noted swimsuit model James Bumgarner in 1963. I have NO idea why they are in this photo together.
More understandable is
this
with Sandra Day O'Connor, in 1984.
--Koko-Moxie

A
ll content (c) 2005-2014 alt.obituaries Deadpool. All rights reserved.