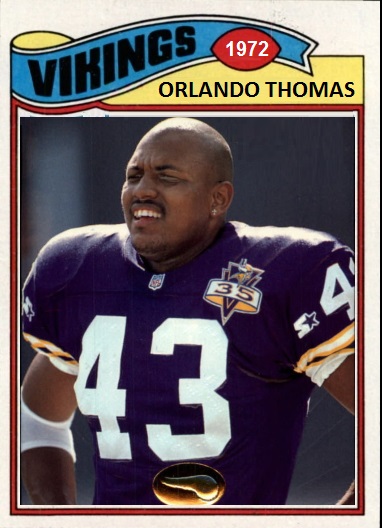 Orlando Paul Thomas was a defensive back who played his entire career with the National Football League team the Minnesota Vikings.
Thomas, a second-round pick in 1995, spent seven seasons with the Vikings. He stood 6'1" and weighed 225 pounds during his playing career. He was a member of the 1998 team that went 15–1 and lost in overtime of the NFC Championship. Thomas led the NFL in interceptions in his first Minnesota Vikings season, w
ith nine.
"Every day is a holiday," his teammate Jim Kleinsasser said. "Orlando always used to say that. It was his way of saying how blessed we were to do what we were doing. He felt like it was a true honor to play for the Vikings and be a member of the NFL."
Thomas passed away from complications of ALS on November 9, 2014, in his hometown of Crowley, Louisiana. He is survived by his wife, Demetra, and his two children, Alexis and Orlando Jr.
Orlando Thomas's career NFL statistics:
Tackles: 457
Interceptions: 22
Touchdowns: 2


--Keister Button

A
ll content (c) 2005-2014 alt.obituaries Deadpool. All rights reserved.