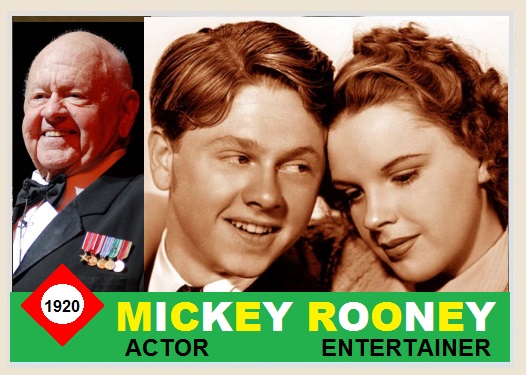 I am far from being a child of the '30s or '40s, so I have to admit I never really got Mickey Rooney. As a kid he kind of creeped me out because I didn't know if he was a child or a grown-up. As I got older, he seemed to always be angry about something, and as he got older it seemed he was completely out of it, but people kept putting him on TV and interviewing him anyway.
Rooney was born Joe Yule, Jr., on September 23, 1920, in Brooklyn, New York. He first took the stage as a toddler in his parents' vaudeville act. He made his first film appearance in 1926, playing a little person in
Not to Be Trusted
. There, see, a little person. Child, adult, who knew?
Rooney reached new heights in 1937 with
A Family Affair
, the film that introduced the country to Andy Hardy, an all-American teenager. He would go on to play the character in nearly 20 films, making him the #1 box office attraction by 1939. Other films helped to boost the young star's career as well, including
Lord Jeff
,
Boys Town
, and
A Midsummer Night's Dream
. In 1938, Rooney received a special miniature Academy Award for his "contribution in bringing to the screen the spirit and personification of youth" for his work on the Andy Hardy film series.
Little did the Academy know that at the same time, Rooney was taking his "spirit and personification of youth" to Norma Shearer. He had been severely reprimanded by MGM studio head Louis B. Mayer for having a torrid affair with Shearer on the set of her film
Marie Antoinette
, where the two would hole up in her trailer for hours on end. Mickey was 18 at the time. Norma was 38 and had recently been widowed by MGM studio exec Irving Thalberg. Mayer managed to avoid the story becoming public, and it was not revealed until many years later, when Rooney gave the explicit details in his autobiography. Mickey had some game.
Teaming up with Judy Garland, Rooney also appeared in a string of musicals, including
Babes in Arms
and
Girl Crazy
. He and Garland, who had first worked together in an Andy Hardy movie, became good friends. "We weren't just a team, we were magic," Rooney once said. He also appeared with Elizabeth Taylor in the now-classic
National Velvet
. After serving in the military during World War II, Rooney took on a variety of roles, but none of them matched his earlier successes on the big screen.
Off-screen, Mickey Rooney was well-known for his rocky love life and multiple marriages. He tied the knot eight times, including a brief union with Hollywood beauty Ava Gardner in 1942. The two were married only one year. Wonder if it ever bothered Sinatra that he got Mickey's sloppy seconds. (Thirds, for that matter: she married Artie Shaw in between.) In 1944, Rooney was married for a second time, to beauty queen Betty Jane Rase, and the couple had two sons. Rooney and Rase divorced in 1949, and just six hours after their split was finalized, he married his third wife, actress Martha Vickers. They had one son. Mickey was quite the playa.
On the heels of his divorce from Vickers, he headed to Las Vegas to marry actress/model Elaine Mahnken Devry. They were married until 1958, and just hours after their divorce, Rooney tied the knot again, marrying model/actress Barbara Ann Thomason, whom he had four children with. Damn, Mickey, you a balla! Their marriage ended tragically when Thomason's lover killed her in a murder-suicide. Soon after the tragic event, Rooney married Thomason's friend Margaret Lane, but the relationship lasted only 100 days. In 1969, he married Carolyn Hockett, and they had two children. They divorced in 1975 and three years later Rooney married his eighth and last wife, singer Jan Chamberlin. They separated in 2013, about a year before his death. There is no doubt, Mickey could pull some major trim in his time, and didn't bother with condoms.
In 1961, Rooney appeared in
Breakfast at Tiffany's
, starring Audrey Hepburn. His bucktoothed portrayal of Hepburn's Japanese neighbor Mr. Yunioshi draws criticism to this day for its offensive racial stereotype. Rooney said he was playing the role for laughs and never intended to offend audiences.
Although he experienced a career slump in the late 1960s and 1970s, Rooney was considered for the role of Archie Bunker on
All in the Family
. He staged another comeback in 1979's
The Black Stallion
, which brought him an Academy Award nomination as Best Supporting Actor. Around this time, he also wowed theater audiences in a revival of
Sugar Babies
with Ann Miller on Broadway. The pair took the hit show on the road as well.
In 1981, Rooney won an Emmy Award for his portrayal of a mentally challenged man in
Bill
. The critical acclaim continued in 1982, when he received an honorary Academy Award "in recognition of his 60 years of versatility in a variety of memorable film performances."
Mickey Rooney continued to act into his 90s. He appeared in such films as
Night at the Museum
(2006), with Ben Stiller, and
The Muppets
(2011). Outside of performing, he used his distinctive voice to speak out about elder abuse. In 2011, he testified to Congress about the issue. The actor knew first-hand about the victimization of seniors. Rooney filed suit against his stepson Chris Aber, the son of his eighth wife Jan, claiming that Aber and his wife verbally and financially abused him. The actor stated that the couple misled him about his own finances, using his funds to cover their expenses while denying him needed food and medicine. In 2013, the suit was settled with a $2.8 million judgment in Rooney's favor.
Mickey Rooney, whose career spanned nine decades, died in his Los Angeles home on April 6, 2014, at the age of 93. When Rooney's will was filed, the actor's estate was valued at only $18,000. I'm guessing he never saw a dime of that $2.8 million. In his autobiography,
Life is Too Short
, he said, "Had I been brighter, the ladies been gentler, the liquor weaker, the gods kinder, and the dice hotter—it might have all ended up in a one-sentence story."
Well, Mickster, here's one for me and one for my homie . . . oh, and two points each for Alan, Busgal, Dead People Server Curator, Exuma, Garrett, Headless Horseman, Joan Harvey, Kathi, King Daevid, Moldy Oldies, RH Draney, Walking Dead Dude, and yours truly . . . Where's My Damn List?


--Where's My Damn List?

A
ll content (c) 2005-2014 alt.obituaries Deadpool. All rights reserved.