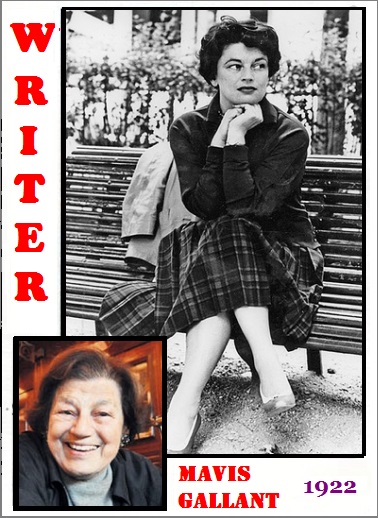 Mavis Gallant wrote what she knew. Her fiction often focused on independent, alienated exiles (either by choice or by circumstance), often women, caught between worlds, steeling themselves to persevere through challenging environments. Her last editor at
The New Yorker
, Deborah Treisman, observed, "You're haunted both by the moments of beauty and intelligence and by the scenes of devastating loneliness or disappointment. [...
] The degree of self-knowledge was painful, the understanding of the moods and motivations of others astonishing, but the moments of real connection heartbreakingly rare. There was isolation, and then there was the acceptance of isolation."
Gallant formally accepted isolation in 1950, fleeing her native Montreal for Europe after a difficult childhood and an early unfulfilling career in journalism. After traveling the continent, observing the dispossessed people around her, she settled in Paris, pleased to find, "for the first time in my life, a society where you could say you're a writer and not be asked for three months' rent in advance." She resolved to live off her writing or die trying: "If I could not live on it, even simply, I should destroy every scrap, every trace, every notebook, and live some other way." Fortunately, her short stories found a home at
The New Yorker
, which published 116 of them over 40 years. (Only S. J. Perelman and John Updike contributed more writing to the magazine.) Though she wrote two novels, some essays, and a stage play, short stories were her primary medium.
As a Canadian living in France and writing short stories in English, Gallant was perhaps uniquely set up to fall through the critical cracks. While her stories won her a devoted American audience, it took 30 years for them to be published in her homeland, and only after she released an anthology of previously published work with explicitly Canadian themes (
Home Truths: Selected Canadian Stories
) was she deemed worthy of Canadian critical recognition. Similarly, her work wasn't translated into French until the 1980s, and she remained professionally anonymous in her adopted city until an appearance on French TV made her a minor celebrity. By the time the 900-page
Collected Stories of Mavis Gallant
hit the shelves, however, she was recognized worldwide as one of the 20th century's foremost writers of short fiction.
Gallant died in Paris on February 18. She was 91. Chipmunk Roasting gets seven points (2 for hit + 5 for solo).
--Hulka
A
ll content (c) 2005-2014 alt.obituaries Deadpool. All rights reserved.