alt.obituaries Memorial Deadpool
est. 2005
Mary Grace Canfield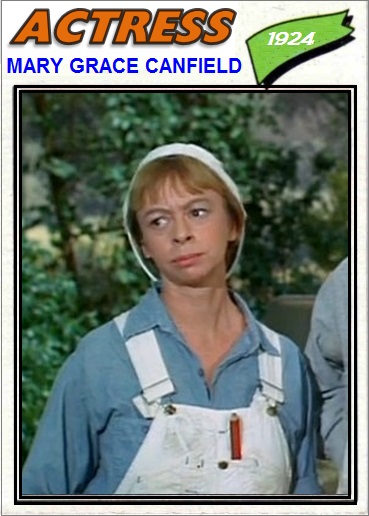 Mary Grace Canfield, born on September 23, 1924, in Rochester, New York, was a stage, film, and television actress, but she became famous for playing the role of all-thumbs carpenter Ralph Monroe on the CBS series

Green Acres

. She played that role in forty episodes between 1965 and 1971 and reprised it in the 1990 movie

Return to Green Acres

. But her fame for that role was only one side of the medal, and during an interview in 2002, she admitted to be upset at being remembered for only one role.


Mostly active on small theater stages during her early years, she appeared in several Broadway plays between 1952 and 1964. Her first television performance was in a 1954 episode of

Goodyear Playhouse

. Her other credits included NBC's

The Eleventh Hour

(1963),

Bewitched

(1966),

Adam-12

(1970), and

Alice

(1985).


Canfield was married twice. She died on February 15, 2014, in Santa Barbara, California, bringing eight points each to two players: Where's My Damn List? and B&T's Characters.


--WEP

A
ll content (c) 2005-2014 alt.obituaries Deadpool. All rights reserved.