alt.obituaries Memorial Deadpool
est. 2005
Marion Barry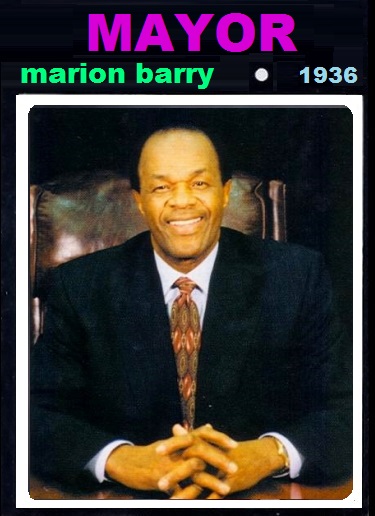 Marion Barry

Eagle Scout, Chemist, "Mayor for Life"

March 1936–November 23, 2014


Marion Barry, the flamboyant and powerful four-term mayor of Washington, D.C., died on November 23 at the age of 78, after a short stay in a Washington hospital. Much is known about Barry's well-publicized successes and failures in his life as a politician. Much less is known about his life before he arrived in Washington in 1965 as the dashiki-wearing, confrontational chairman of the civil-rights organization SNCC.


Marion Barry began life in the Mississippi delta as the son of a 16-year-old mother and a 42-year-old father. His parents were sharecroppers. His parents did not stay together long. His mother moved to Memphis, and young Marion came along. As a young man, Barry was industrious, smart, and ambitious. He had numerous newspaper delivery routes while selling another paper on the corner. He did well in school and became an Eagle Scout.


One of the more surprising aspects of Marion Barry's life was his interest in chemistry. He attended LeMoyne College in Memphis, received a bachelor's degree in chemistry, and went on to earn his master's degree in chemistry at Fisk University. He was working on his doctorate in chemistry at the University of Tennessee when he, like many other college students of that era, got caught up in, and joined, the civil rights movement in the early 1960s.


He became the founding Chairman of SNCC (Student Nonviolent Coordinating Committee), a more aggressive civil-rights organization than the conservative NAACP. After moving to Washington in 1965, he organized SNCC protests such as a "mancott" of the D.C. transit system after a fare increase. He was known for his "in your face" style to get things done.


In 1967 he resigned from SNCC and started Pride Inc., recruiting 1,000 D.C. teenagers to help clean up alleys and streets of trash, rats, and other signs of urban neglect. Pride Inc. was funded by a grant from the federal government; thus began Marion Barry's transition from the fringe to the establishment, and soon, government.




His rise in government was fast. He ran for his first elected office, on the D.C. Board of Education, in 1971; won; and became Board President in 1972. In 1975 he ran for City Council and won. In 1978 he ran for Mayor and won. His transformation from dashikis to tailored suits was complete. Of the change, he said "I'm a situationist." That he was.


Washington, D.C., was going through its own transformation. It had recently been released from servitude to Congress and had achieved home rule. This allowed Barry to encourage an aggressive building boom while hiring youth for summer jobs, expanding programs for the needy, and adding many management positions for young minorities to a previously hidebound city government. He also hired the right people to bring order to the city's disorganized finances and put the city on a solid footing.


He ran for and won two more terms for mayor, and earned the title "Mayor for Life," which also became the title of his autobiography. His entourage grew as he traveled the city in a chauffeured limo with security detail, hangers-on, and attractive women. He had four failed marriages along the way.


By the time he announced a run for his fourth term in 1989, he was well into drug addiction. When a one-time girlfriend invited him to visit her in a Washington hotel in January 1990, he was taped by the FBI fondling her, asking for drugs, and smoking a crack pipe. The arrest was also taped, and he uttered his most famous quote, "Bitch set me up." He made the customary public mea-culpa press conference three days later, and went into rehab for seven weeks.


Indicted on 13 counts of drug possession and perjury, he was only convicted on one count of cocaine possession. He served six months in federal prison, but his bad habits followed him. He was punished for having a female prison visitor perform oral sex on him during his stay.


Out of prison, Barry returned to Washington as a conquering hero, was reelected to City Council, and ran for and won his fourth term as mayor in 1995.


By that time the jig was up. The city was suffering from bad finances and the AIDS, crack, and crime epidemics. Congress stepped in and put the city under a Fiscal Control Board, which ultimately emasculated the position of mayor. Barry was a realist and left office after his fourth term, but he just couldn't give up government, and he won a seat on City Council and held it until the end of his life. He kept winning despite a drug relapse, poor health, failed marriages, and personal financial problems. Only death and prison would end his 43-year span of elected office.


The "power corrupts" axiom of Lord Acton* often comes to mind when considering Marion Barry's legacy.


One of the funnier stories about Marion Barry that I read occurred just after he was elected to his first term. He had walked to a nearby Popeye's and, resplendent in his fashionable tailored suit, carried a red box of fried chicken back to his office. Someone mentioned that it didn't look right for the new mayor to be seen carrying a box of fried chicken in public. Henceforth, an assistant always did the carrying.


A key source for this obit was the

Washington Post

.
*"Power tends to corrupt, and absolute power corrupts absolutely. Great men are almost always bad men."

--Exuma

A
ll content (c) 2005-2014 alt.obituaries Deadpool. All rights reserved.