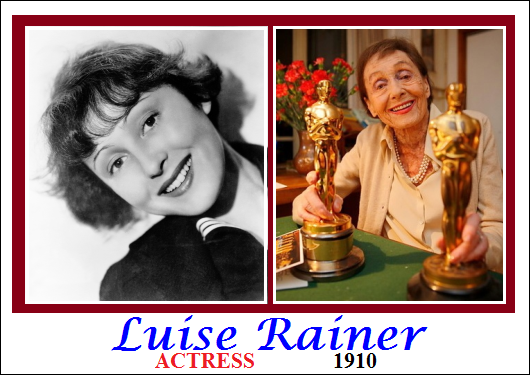 Luise Rainer, the German-born Austrian and American film actress who won back-to-back Oscars in the 1930s, took her Oscars with her to the great beyond on December 30, 2014, at the very ripe old age of 104. The cause of death was pneumonia, and the place of death was foggy old London, which makes for a horrible combination for a cause of death. She was, at the time she clocked out, the oldest living Oscar winner, a feat that will most likely not be repeated, since all other Oscar winners tend to drop off like bags of wet cement long before that.
Rainer won the Oscar for best actress in 1936 for her role in
The Great Ziegfeld
and in 1937 for her role in
The Good Earth
. Apparently the words "Great" and "Good" didn't keep her head above water afterward, for her acting career took a nosedive, and she was reduced to a trivia question who was seldom heard from again. While she blamed her twin golden boys for the decline in her acting career, it was more likely because of a huge field of heavy-hitting contenders who outshined her and left her lagging behind.


So long, Luise, and thanks for making a happy end of the year for Dead People Server Curator, Eternity Tours, Joan Harvey, Loki, Moldy Oldies, and The Wiz (1 point for hit + 10 year-end bonus points).

--The Wiz

A
ll content (c) 2005-2014 alt.obituaries Deadpool. All rights reserved.