alt.obituaries Memorial Deadpool
est. 2005
Louis Zamperini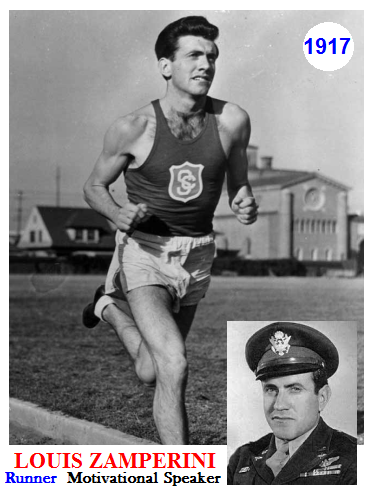 A staple of deadpool lists are the "I can't believe that person is still alive" names, whether it be people who have had health issues for many years or elderly names that have long faded from the spotlight. The fact that Louis Zamperini lived to be 97 wasn't surprising due to any late-life ailments (he defied his age so much that, aged 86, his doctors said his vitals were like that of a man half a century younger) but because of extraordinary circumstances he endured in his younger days.

Even in the earliest years of his life, Zamperini escaped several close brushes with death—the family household burned down when Louis was two, and he was almost hit by a car during a childhood race. He spent his teenage years as a troublemaker, which could have meant a very different life path had he not been convinced by his weary brother to take up athletics. Zamperini decided to pursue running, and after initially struggling, he became the top runner at his high school. He later partook in the 5000-meter run at the 1936 Berlin Olympics, and although he only came in eighth, his particularly fast final lap impressed Adolf Hitler.

Then came the against-all-odds survival. During World War II, Zamperini was a pilot embarking on a search-and-rescue mission when his own plane crashed, killing eight of the eleven crewmen. He and another survivor, Russell Allen Phillips, spent 47 days aboard a rubber raft with next to no food; the third, Francis McNamara, succumbed to starvation on day 33. As an added bonus, the men had to stave off sharks, and on day 27, a Japanese bomber attacked.

Though that in itself would make a remarkable tale of perserverance, Zamperini's woes were far from over. Captured by the Japanese, he spent two years as a prisoner of war. His primary abuser was Corporal Mutsuhiro "The Bird" Watanabe, who was aware of Zamperini's success as a Olympic runner and had vested interest in him for that reason. Zamperini was fed very little, beaten daily, and frequently abused mentally during this time.

Following the war's end, Zamperini enjoyed celebrity status as a war hero but had a difficult time readjusting to regular life. Injuries prevented him from participating in the 1948 Olympics, and he dwelled on alcohol and thoughts of revenge as the mental wounds of his torment endured. His life improved tremendously when his wife introduced him to Billy Graham (no doubt a name that many people thought of when reading the first sentence of this writeup), whose sermons inspired Zamperini to become a devout Christian who no longer desired malevolence. Zamperini spent much of his postwar life as a motivational speaker, using themes of reconciliation, and was even willing to reapproach Watanabe, who refused Zamperini's request.

Louis Zamperini, who has a movie about his trials to be released this December, died on July 2 after suffering from pneumonia. A determined fighter to the end, it took 40 days for his final enemy to take him down. Jefferson Survives receives 7 points: 2 for age, 5 for solo.


--Jefferson Survives

A
ll content (c) 2005-2014 alt.obituaries Deadpool. All rights reserved.