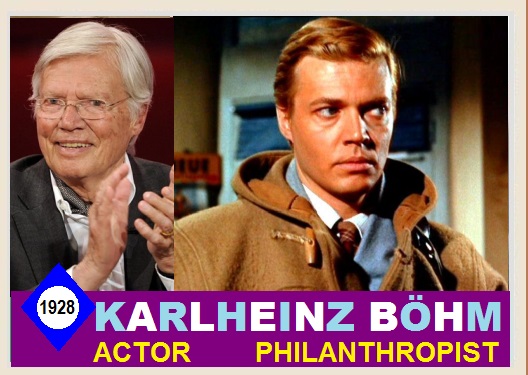 Menschen für Menschen
(Humans for Humans). Whether in German or English, three simple words define a charity that has raised one-third of a billion dollars for African humanity. Whether tackling female genital mutilation, building more than 300 schools, or digging hundreds of wells, a man who some would dismiss as "just an actor" was behind all of it.
Born in 1928 to a conductor who scored many films (Karl Bohm) and a singer (Thea Linhard), it was natural for Karlheinz Bohm to aim for an artistic career. He escaped military service, and the war embroiling Germany, by faking a medical condition and heading to a Swiss boarding school.
After the war, he diverted from his almost-guaranteed musical career into acting. His 35-year acting career was notable for his portrayal of Emperor Franz Josef of Austria in the three-part, 1950s-era
Sissi
series. During the 1960s, he appeared in American films and television, including even
The Virginian
(a western).
Before he gave up his acting career in 1983, Karlheinz Bohm could have been described as an early George Clooney: a ladies' man, a serious actor, and even a political dilettante. But Bohm's strength was that he actually had given it all up for humanity.


As popular as he was in Germany, he was adored in Ethiopia. He was made an honorary citizen in 2003, and a statue of him was erected in Addis Ababa in 2011.

Karlheinz Bohm died at age 86 on May 29, 2014, from complications of Alzheimer's. He left behind seven children, four ex-wives and innumerable grateful humans. Good for you, Karlheinz. A good human. With a good dog.


--Koko-Moxie

A
ll content (c) 2005-2014 alt.obituaries Deadpool. All rights reserved.