alt.obituaries Memorial Deadpool
est. 2005
Karl Albrecht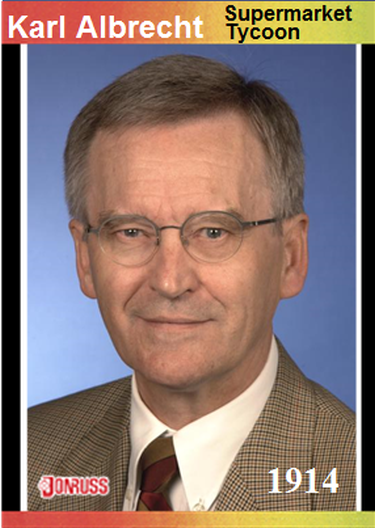 Germans aren't known for being particularly warm and of good humor. Karl Albrecht allowed no interviews, had few photos published, and accepted no public honors. His business, ALDI grocery markets—co-founded with his younger brother, Theo, in 1961—had no advertising. One of Karl's very few public comments was that Aldi's advertising was "the cheap price." The name Aldi came from "Albrecht Discount."




Karl Hans Albrecht, Jr., was born on February 20, 1920, in the industrial city of Essen, Germany. His Mutter ran a small grocery store, and the boys had no intention of following Vater into the mines of the Ruhr Valley. After World War II, in which Karl served on the Russian front and Theo in Rommel's Afrika Korps, they took over Mama's little store and made themselves a pile of Deutschmarks. In 1962, the brothers split up the business into Aldi Nord (Theo) and Aldi Süd (Karl). Aldi Nord also owns Trader Joe's markets in the U.S.




Karl was Germany's wealthiest person at the time of his death, with an estimated worth of US$25 billion. He built his own golf course so he wouldn't have to interact with others.

He established the Elisen Foundation to support cultural causes, and his Oertel trust, which controlled a portion of Aldi S

ü

d, also donates to medical research. At least that means he was just reclusive and not a miser.




Karl Albrecht died on July 16, 2014, at the age of 94. No one outside of his family knew about it until after he was buried. His wife, Maria, died in 2013. As far as we know, he is survived by a daughter, Beate Heister; a son, Karl Jr.; and at least one grandchild, Peter Max Heister.


--Kathi

A
ll content (c) 2005-2014 alt.obituaries Deadpool. All rights reserved.