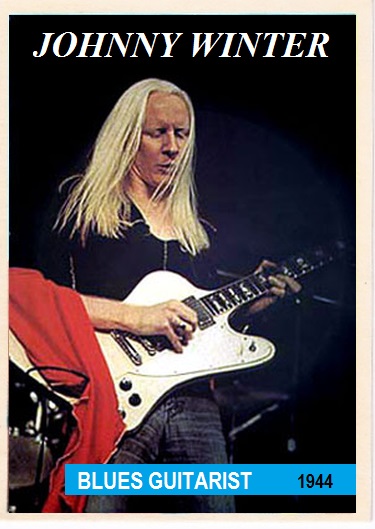 It ain't no secret, but here in east and southeast Texas we got some serious blues. We got Joe "Guitar" Hughes and Johnny "Guitar" Watson. Blind Willie Johnson and Blind Lemon Jefferson. Lightnin' Hopkins, the Vaughan brothers, Albert Collins, ZZ Top. All the way east, Port Arthur had Janis Joplin but messed that up big time.


Next door in Beaumont were a couple of albino brothers, the younger Edgar Winter and elder Johnny Dawson Winter III. The pair thrived in this environment, encouraged by their parents, especially after Johnny discovered the music of Howlin' Wolf, Muddy Waters, and others. At age 11, the brothers were performing Everly Brothers songs in talent competitions. By age fifteen they recorded their first record, with Johnny on guitar and vocal and Edgar on sax, under the name Johnny and the Jammers.
A few years later, in 1968, Johnny put out an album called
The Progressive Blues Project
on a small label. Later that same year, a meeting with Mike Bloomfield and Al Kooper led to a record deal with Columbia. The albums
Johnny Winter
and
Second Winter
came out, and he
appeared at Woodstock
.
He formed a new band, Johnny Winter And. One of the members was Rick Derringer, who contributed a song titled "Rock & Roll Hoochie Coo," which Derringer would record later for a solo hit. Another one of the "Ands" during this period was
heroin
, but he was able to shake it off fairly quickly.
One thing he did not do during this period was participate in a Jimi Hendrix/Jim Morrison bootleg called
Woke Up This Morning and Found Myself Dead
. Some of it was recorded in a club owned by Winter's manager, which might be how the rumor of his involvement started. He always denied it, though, pointing out that he was not in New York at the time and never met Jim Morrison at any time.


Edgar, more drawn to jazz and rock, went his own way in the early 1970s, achieving success of his own. The brothers remained friends, however, and performed together regularly all the way through this year. Johnny Winter got back on the one thing he really wanted to be on, the road, and stayed there.




He stopped long enough to produce an album for his hero Muddy Waters,

Hard Again

. It and two follow-ups all won Grammy awards.
But mostly he toured and recorded. At one show in Amsterdam, he stopped the show and left the stage when someone threw a bottle right by him in the middle of
a sizzling version of "Johnny B. Goode."
Can't blame him, though; he probably had his fill of that kind of audience interaction during his Beaumont years (who, us?
innocent whistle
).
Over his last twelve months, Winter played in Japan, then worked his way east across the U.S. and Canada, and then went on to Europe. He was in somewhat poor health during his last years. All of the
videos of him in action during this period
show him sitting while performing, and
some
show the chair being brought out and set up, followed by him assisted to it by a stagehand or two. But the road was where he lived, so it was where he died. On July 12, 2014, he performed a show at the Lovely Days Festival in Weisen, Austria. Four days later, he passed away in a hotel room in Zurich, Switzerland, survived by his brother Edgar and his wife of twenty-two years, Susan.
At this time (July 2014), his
website
still shows his tour schedule for next month, starting in New York, down to Florida, then out to California and the rest of the U.S. West Coast. It also lists the tracks and guest artists on what will be his final album,
Step Back
, scheduled for release
on

September 2, 2014
.


In 1988, Johnny Winter became the first white musician named to the Blues Foundation Hall of Fame.

Rolling Stone

magazine rated him #63 on its list of greatest guitarists of all time. You was good, Johnny. Thanks.
--Team Bubba
A
ll content (c) 2005-2014 alt.obituaries Deadpool. All rights reserved.