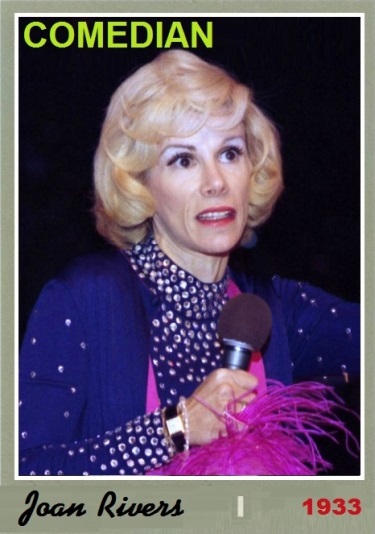 Joan Rivers. Let's see how far I can get before writing "Can we talk?" Looks like eleven words.
I really didn't want to take on this writeup. No matter how divisive or controversial this woman was, she was a legend. We all know of her early stand-up days, the ups and downs and eventual fall-out with Johnny Carson, the red-carpet banter and insults, the plastic surgeries, the talk shows,
Fashion Police
,
Celebrity Apprentice
, her husband's suicide, her daughter, her grandson. I tried to find some interesting facts that maybe we didn't all already know. Here goes:
The daughter of Russian immigrant parents, she was born Joan Alexandra Molinsky in Brooklyn in 1933. She discovered her comic talent at an early age, by entertaining her father's work colleagues. Her agent Tony Rivers advised her to change her name, so she chose Joan Rivers as her stage name.
Rivers worked as a fashion coordinator for Bond Clothing Stores and as a publicist for Lord and Taylor. Her first marriage was in 1955, to James Sanger, the son of a Bond Clothing Stores merchandise manager. The marriage was annulled on the basis that Sanger did not want children and had not informed Rivers before the wedding.
Determined to succeed, Joan appeared in a number of small plays, including one called
Driftwood
. She played a lesbian with a crush on a character played by a then-unknown Barbra Streisand. The play ran for six weeks. Barbra and Joan shared a kiss in the production. When it became apparent that acting was not her forte, Joan switched to comedy and spent the next seven years doing the rounds of New York's comedy clubs.
Her years as a struggling performer in the coffeehouses of Greenwich Village gave her the experience she needed when her big break finally came along in 1965. A booking on
The Tonight Show with Johnny Carson
turned Joan's career around, and she became an instant hit.
Her first syndicated talk show on daytime TV,
That Show with Joan Rivers
, combined with appearances on Carson and
The Ed Sullivan Show
, made Joan a household name. By 1983, Joan was headlining Las Vegas and had a Grammy-nominated comedy album and two best-selling books. She was also named Carson's permanent guest host for
The Tonight Show
, which led to her own talk show on the newly-formed Fox network in 1986 . . . which led to Carson never speaking to her again for the rest of his life.
By the late 1980s, Joan's career had suffered a series of setbacks. Her show was canceled, the industry turned its back on her, and in 1987, her husband and producer of 22 years, Edgar Rosenberg, committed suicide. In a book published ten years after his death, Rivers said she developed bulimia during this dark period of her life and even considered suicide. She said she managed to eventually move forward with counseling and help from her family and friends.
Joan moved back to New York, and by 1989 had launched a new syndicated daytime talk show, for which she won an Emmy. She also got a star on the Hollywood Walk of Fame. In 1994, she wrote and starred in
Sally Marr and Her Escorts
, which earned her a Best Actress Tony nomination.
In an interview with Howard Stern, Rivers said she had several extramarital affairs while married to Rosenberg. According to Rivers, she had a one-night sexual encounter with actor Robert Mitchum in the 1960s after an appearance together on
The Tonight Show
.
In 2011, a new series starring Joan and her daughter Melissa was launched on WE TV. The reality show followed Joan as she moved to California and searched for a new home. A second series of the show was commissioned and premiered early in 2012.
Controversial to the very end, Joan died on September 4, 2014, age 81, due to mysterious circumstances during a fairly routine operation on her vocal cords. More to follow on that, as the lawsuits have begun to pile up.
I'll give the final words to Joan, who once told an interviewer she wanted her gravestone to say, "Go ahead and take the picture, asshole!"
OK, Joan, and Jim Thornton and I will also take the 8 points (5 points for hit + 3 points for duet). Say hi to Edgar for us.
--Grim McGraw
A
ll content (c) 2005-2014 alt.obituaries Deadpool. All rights reserved.