alt.obituaries Memorial Deadpool
est. 2005
Jerry Vale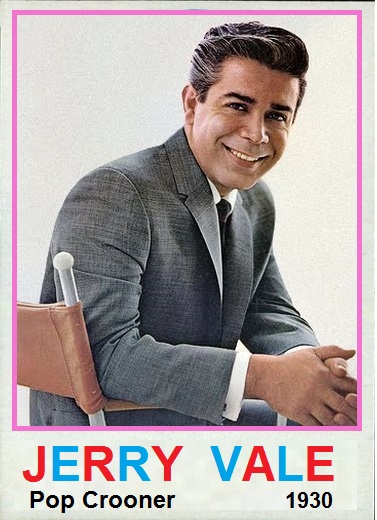 Singer Jerry Vale was born Genaro Louis Vitaliano in the Bronx on July 8, 1930. He began his singing career as a shoeshine boy in a barbershop, singing while he shined shoes. His boss liked his voice so much that he paid for music lessons, and Vitaliano started singing in nightclubs. A three-year engagement at the Enchanted Room in Yonkers, NY, led to a long-term management contract. His new manager changed his name, and the newly renamed Jerry Vale soon signed a recording contract with Columbia Records.
Vale appeared on the charts for the first time in 1953 with "You Can Never Give Me Back My Heart" and had his greatest chart success with "You Don't Know Me," which peaked at #14 on Billboard's Hot 100 in 1956. Among his other hits, across more than 50 albums, were "Two Purple Shadows" and "Al Di La." His recording of "The Star-Spangled Banner," featuring a 40-piece band and eight background singers, was featured at sporting events for years, and he frequently appeared at Yankees games to sing it live; the gold record he earned for it is on display at the Baseball Hall of Fame. A longtime baseball fan, he owned the Daytona Beach Admirals minor league team.
Vale
sang the Late Night with David Letterman anthem "It's a Late Night World" on the program's eighth anniversary special in 1990, and appeared as himself in the Martin Scorsese movies Goodfellas and Casino, as well as on The Sopranos. H
is biography, Jerry Vale: A Singer's Life, was published in 2000.
He and his wife Rita were married for more than 54 years, many of them spent in Palm Desert, California, where he died in his sleep of natural causes on May 18, 2014. He was 83 years old. He is interred at Forest Lawn Memorial Park in Cathedral City, right across the street from his old friend and idol Frank Sinatra, who is buried at Desert Memorial Park.
--Pearly Gates
A
ll content (c) 2005-2014 alt.obituaries Deadpool. All rights reserved.