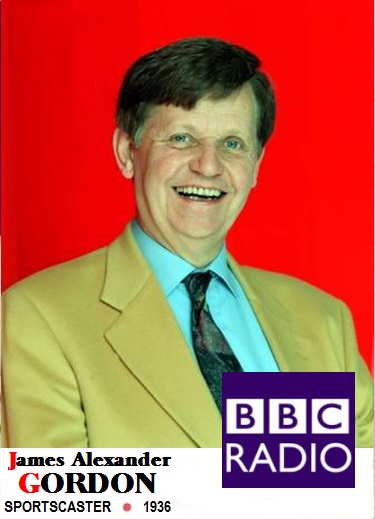 When James Alexander Gordon was a boy in Edinburgh, his father would be annoyed by the way the radio announcer read the football results on a Saturday evening. It was important to be sure whether the result of each match was a home win, an away win, or a draw, so that he would be the first to know if he won the football pools, which he didn't.
James took pity on his Dad, and installed himself in his pretend studio, the c
upboard under the stairs, and read the results out to Dad with his own special intonation.
Years later, in 1972, Jag, as he was known to friends and family, joined the BBC as a newsreader, and soon he was given the job of reading out the football results every Saturday. When his father heard him the first time, he cried out, "The wee bugger's finally done it."
On BBC Radio 5 live and on the World Service every Saturday throughout the football season, the presenter's voice is heard, "It's five o'clock, and this is
Sports Report
," followed by the famous signature tune ("
Out of the Blue
") and, until last summer, by "and here are the classified football results read by James Alexander Gordon."
Gordon's way of reading the results
was unique. As soon as you heard the name of the home team and the number of goals it had scored, you knew the outcome of the match. If the tone rose for the number of goals, it was a home win; if the tone was level, it was a draw; and if the number of goals had a lower tone, then you could be sure it was going to be an away win.
James told the story of how, one Saturday afternoon when he was running late to get to the BBC, he was stopped for speeding on the Western Avenue. When the traffic police officer realized who he had pulled over and why he was in a hurry, James was waved on his way with just a warning to stay within the speed limit.
James Alexander Gordon was afflicted by polio at the age of 6 months and had to wear leg supports and heavy orthotic shoes for the rest of his life. He contracted throat cancer and, after a laryngectomy, he retired from the BBC in July 2013. He is survived by his wife Julia, son David, and two granddaughters, Molly and Martha.
Allezblancs knew the score and netted 13 points.


--Allezblancs

A
ll content (c) 2005-2014 alt.obituaries Deadpool. All rights reserved.