alt.obituaries Memorial Deadpool
est. 2005
Hansi Knoteck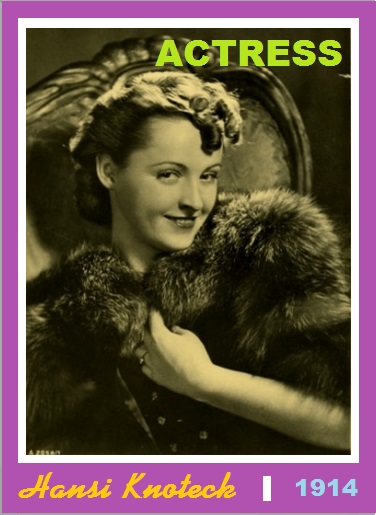 Hansi Knoteck was one of the last remaining actresses from the glorious silver era of German cinema and maybe the last well-known face of the Universum Film AG (UFA), who made films before, during, and after World War II. During the last twenty years, Knoteck went forgotten, not because of her missing talent but because of the early end of her career and the unpopularity of her film genre.


Born in Vienna, Austria, on March 2, 1914, as Johanna Gnoteck, she started a career as a ballet dancer at the age of 14. She then changed her name to Hansi Knoteck, which was easier to pronounce. In 1934, her first film appearance was as the leading role in Schloß Hubertus, one of seven film versions of writings by Ludwig Ganghofer. Those sentimental films played in a rural milieu and were part of the largest genre of that time: Heimatfilm, films with a regional background, about typical conservative virtues.


With her childlike face and large eyes, Knoteck seemed to be perfect for the genre-typical role of the young and naïve woman, which made her unable to get any character roles. Her best-known role was heiress Jane Berry in the 1937 film Der Mann, der Sherlock Holmes war ("The Man Who Was Sherlock Holmes"), a comedy-like criminal romance about a Sherlock Holmes impersonator and his fight for the rights of two young heiresses. She was the last survivor of that film's main cast.


In 1940, Knoteck married actor and director Viktor Staal (1909–1982), with whom she had a son, Hannes. The couple moved to Munich, Germany. Both Staal and Knoteck stayed popular in their genre's film business, so Knoteck's postwar career was marked by roles in sentimental Heimatfilms like Der Jagerloisl vom Tegernsee (1951) and Der Pfarrer von Kirchfeld (1955), which was her last film before she officially ended her career. Her last screen appearance was a short role in the 1974 movie Der Jäger vom Fall.


Hansi Knoteck died on February 23, 2014, in Eggstätt, Bavaria. German genre experts celebrated her 100th birthday seven days later without being aware of her death, which was published in August for the first time. The last well known actress of the golden times of UFA died in oblivion. Only WEP recalled her and receives seven points: two for the hit and five for the solo.


--WEP

A
ll content (c) 2005-2014 alt.obituaries Deadpool. All rights reserved.