alt.obituaries Memorial Deadpool
est. 2005
Goose Gonsoulin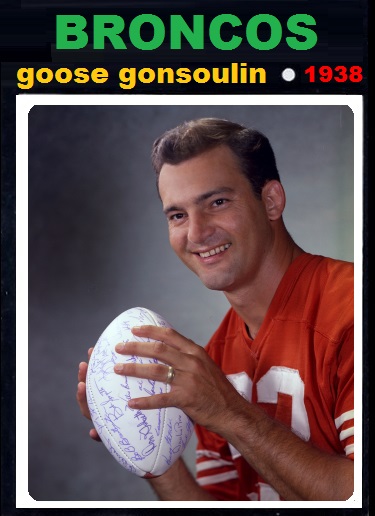 Austin "Goose" Gonsoulin was a groundbreaker, in fashion as well as football. A star running back and defensive back out of Thomas Jefferson High in Port Arthur, Texas, he was recruited by both the University of Texas and LSU, but chose to matriculate at Baylor because, in the coated-and-tied fifties, it was the one campus that made him feel at home in jeans.
He was claimed by the Dallas Texans in the American Football League's inaugural 1960 draft, then, in the team's first trade, was sent to the Denver Broncos, where he is considered the franchise's first player. Installed at strong safety, he made the first interception in the first AFL game, versus the Patriots in Boston, then added a second to seal the win. His eleven interceptions that first season are still a team record, and his four against Buffalo that year remain the single-game mark for all of pro ball. He left the Broncos after seven seasons as the AFL career leader with 43, and was an original inductee into the team's Ring of Fame.
Despite a year in San Francisco—the 49ers retained his NFL rights from the 1960 draft—he was a Bronco for life, a regular at reunions and especially Bronco Super Bowls, missing his first only when cancer and heart problems sidelined him in February.
In a final first, when Gonsoulin died on

September 8

, he became the first player in the ten-year history of the AFL to supply a hit in the ten-year history of the alt.obituaries Deadpool. We've had coaches, owners, a commissioner, an announcer, a bandleader—even two guys from the
Australian
Football League, for crikey's sake—but so far Goose is the only A(merican)FL player.
Nope, no one picked Jack Kemp, not even out of spite.
Trust me. I checked.
And speaking of only players, Gerard Tierney gets 8 points for the hit and 5 for the solo.


--Gerard Tierney

A
ll content (c) 2005-2014 alt.obituaries Deadpool. All rights reserved.