alt.obituaries Memorial Deadpool
est. 2005
Geoff Edwards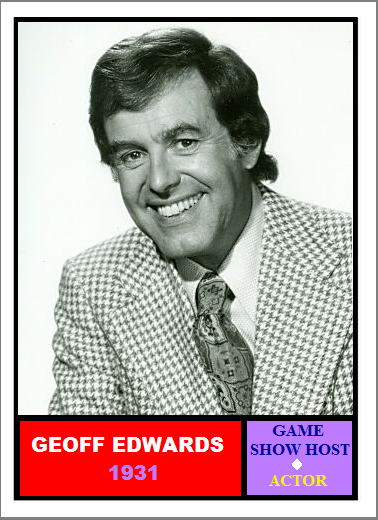 Game show hosts tend to get a bad rap. Often compared to used car salesmen and carnival hucksters, "game show host" can be a much maligned profession. Yet, when we lose one, many people jump on the "I sure liked him" or "that show was great" bandwagon. Such is the case, I suspect, with Geoff Edwards. I'm sure many people remember the handsome, tanned, wavy-haired looker from yesteryear. But
to be honest, with a couple exceptions, I'll be damned if I remember most of the shows he hosted.

Edwards began his game show career in March 1973, with

Hollywood's Talking

, which lasted for four months. Shortly after that, Chuck Barris hired him to host

The New Treasure Hunt

, a revival of a 1950s show. He hosted the weekly show for four years (1973–77) and a daily version for one year (1981–82). In January 1974, NBC also hired Edwards to host

Jackpot

, which lasted nearly two years; he later hosted a revival in 1989–90. Among his other game shows included

Shoot for the Stars

(1977), (1986–91),

Chain Reaction

,

Starcade

,

Play the Percentages

, and a week in the spring of 1985 filling in on

Let's Make A Deal

. His last show was

The Big Spin

, the game show of the California Lottery, which he hosted from 1986 until he retired from television in 1995. (Edwards once said he was asked to host

Family Feud

but had to turn it down because he was already committed to

Shoot for the Stars

.) Fred Westbrook, Edwards' longtime agent, said his client's appearance set him apart from his conservative-looking peers: "His hair was longer, he never wore a tie, and he favored jeans over suits. He was part of the new breed."

Before finding game show fame, Edwards worked as a news reporter and talk show host on radio stations in Albany, New York, San Diego, and Los Angeles. As a reporter, Edwards was in the basement of the Dallas Police Department when Jack Ruby shot and killed Lee Harvey Oswald, and was interviewed by NBC television correspondent Tom Pettit at the scene.

Edwards died of complications from pneumonia in Santa Monica, CA, on March 5, 2014. He was 83. Pearly Gates gets 10 points (5 for hit + 5 for solo).
--Pearly Gates
A
ll content (c) 2005-2014 alt.obituaries Deadpool. All rights reserved.