alt.obituaries Memorial Deadpool
est. 2005
Fergie Frederiksen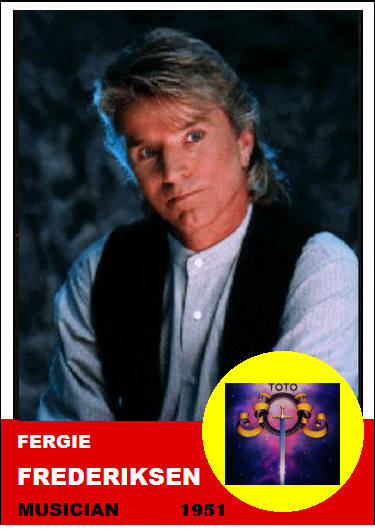 Dennis "Fergie" Frederiksen is best known for being a former singer for Toto, but he also used his high-pitched voice with many other bands.

He began his musical career at an early age, playing clubs and pubs as a teenager with musicians three times his age. When Tommy Shaw joined Styx, he suggested his friend Fergie as his replacement in MS Funk. From then on, Frederiksen joined a series of bands in the early 1980s, including Trillion, LeRoux, and Abandon Shame. He was asked to join Toto after Bobby Kimball left the group, and recorded the album "Isolation" with them before quitting the band and leaving the music industry, tired of "all this hassle and bullshit," to work in the restaurant business. "It was an adventurous album," he later recalled. "It was a band who took a chance of doing an album not in any way as commercial as their previous album ... heavier and more progressive." He returned to music with his solo album "Equilibrium" and by joining the World Classic Rockers, featuring former members of Steppenwolf, Lynyrd Skynyrd, and Journey. At the end of his career, he was involved in efforts to raise awareness of hepatitis C, with which he had been struggling. Diagnosed with liver cancer in the spring of 2010, he died on January 18 at 62. Drunkasaskunk, Mo, and Philip get 12 points each (11 for the hit + 1 for the trio).
--Drunkasaskunk
A
ll content (c) 2005-2014 alt.obituaries Deadpool. All rights reserved.