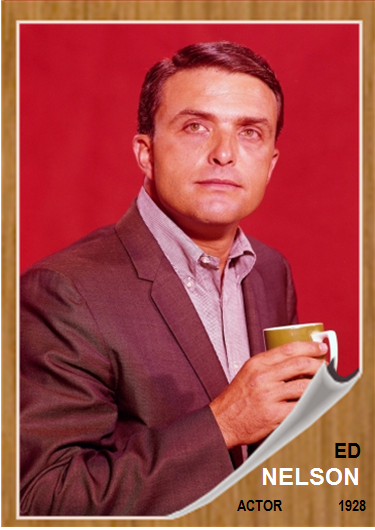 When New Orleans native Ed Nelson heard that Roger Corman and his crew were heading to Louisiana to film
Swamp Women
, he figured working with Corman would boost his fledgling career. The weather was hot and humid, the working conditions weren't exactly posh, and the gig included wrangling wild animals provided by a roadside attraction off Highway 11 in Slidell. Nelson loved it. He collaborated with Corman on several more films, including
Attack of the Crab Monster

, in which he played the title role (he was the stuntman working the controls from inside the prop), the underwater stunt double for Pamela Duncan, and a bit part as Ensign Quinlan.
Ed Nelson did a lot of television in the '60s, appearing in episodes of
The Twilight Zone
,
Gunsmoke
,
The FBI
,
77 Sunset Strip
,
Wagon Train
,
Thriller
, and
The Outer Limits
; however, it was the role of Dr. Michael Rossi in
Peyton Place
that brought him fame.
Peyton Place
, a primetime soap opera, played two nights a week (Tuesdays and Thursdays) on ABC and ran for five years (1964–69).
I wasn't a fan of
Peyton Place
, although I was a great fan of Ed Nelson. My favorite Ed Nelson role is in
The Fugitive
; in the episode "The Girl from Little Egypt," Ed plays Paul Clements, an oily married man chasing after stewardess Ruth Norton, played by Pamela Tiffin. Ed did such a good job playing an oily married man that I'm glad to learn he was a devoted husband and father in real life.
Ed was a true and devoted son of New Orleans: he was a key committee member of the Krewe of Bacchus, and he taught continuing education at Tulane, performed in community theater, and remained in New Orleans until Hurricane Katrina forced him and his wife Patricia to move north to Monroe. He later relocated to Greensboro, North Carolina, to be near his daughter, and considered it his second home. He died in Greensboro on August 9, 2014.


--Kixco

A
ll content (c) 2005-2014 alt.obituaries Deadpool. All rights reserved.