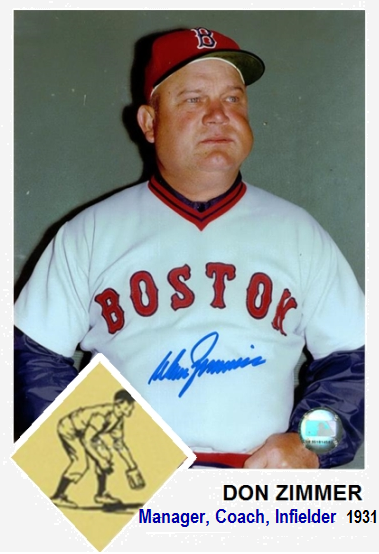 Remember when Yankee second baseman Chuck Knoblauch hit a foul ball off Don Zimmer's head? The next game, Zimmer had on an army helmet, and this incident would cause most major-league baseball teams to install some kind of protective fence around dugouts. Not the first time a ball bouncing off Don Zimmer's dome has altered baseball. Back in '53, while playing for the St. Paul Saints, Zim was hit by a pitch and knocked out. When he woke up two weeks later, Major League Baseball was working on a new rule and would soon institute a rule requiring all hitters to wear a batting helmet (Yankee shortstop Phil Rizzuto was the first MLB player to wear one).
Still, Don Zimmer, who spent the better part of 65 of his 83 years in baseball as a player, coach, manager, and baseball adviser, will always have a place in the hearts of New York Yankee fans. No, not for the army-helmet game and not for the game that Pedro went all WWE on his fat ass . . . He will pull a sentimental tear from the Bronx faithful for being the manager of the 1978 Boston Red Sox—for hating Sux pitcher and Yankee killer Bill Lee so much that he refused to let him pitch during the '78 Boston Massacre. We hated him, too, Zim. So, thanks from the Yankee Empire.


Don Zimmer, who was a player, coach, or manager for the Cambridge Dodgers, Hornell Dodgers, Elmira Pioneers, Mobile Bears, St. Paul Saints, Florida Instructional League Senators, Knoxville Smokies, Buffalo Bisons, Brooklyn Dodgers, Los Angeles Dodgers, Chicago Cubs, New York Mets, Cincinnati Reds, Washington Senators, Toei Flyers, Indianapolis Indians, San Diego Padres, Boston Red Sox, Texas Rangers, Montreal Expos, New York Yankees, San Francisco Giants, Colorado Rockies, Tampa Bay Devil Rays, and Tampa Bay Rays, died in June and offered up six points each, five for the hit and one more for the trio, to Pat Peeve, the Wiz, and Where's My Damn List?. I bet those three AO Deadpool players never even knew Zim was a two-time All-Star, the 1989 Manager of the Year (Cubs), and a six-time World Series champion (two with the Dodgers and four with the Yankees).
--Bill Schenley
A
ll content (c) 2005-2014 alt.obituaries Deadpool. All rights reserved.