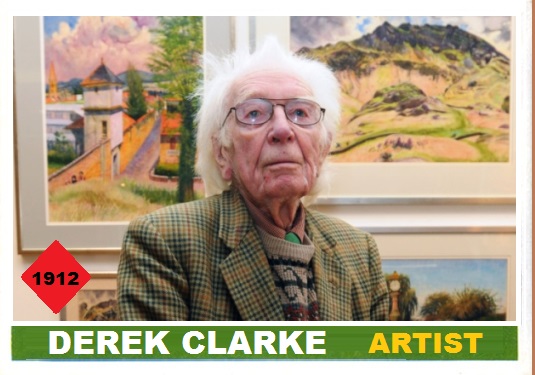 It takes some determination to be out of step with popular taste throughout an 80-year career, and British painter Derek Clarke was nothing if not determined. This was a man who viewed his six-month convalescence from being shot in the spine during World War II as an opportunity to chase his muse: "I still had all my pre-war colors of vermilion, viridian, and cadmium [...] while everyone else was painting in the drab colors ava
ilable at the time." While 20th-century art trends passed by, Clarke remained devoted to his primary themes: rural landscapes, family scenes, and religious imagery, mostly in colorful, van Gogh–inspired oils. (He also made a living as a portraitist, but this seems to have been a commercial decision as much as an aesthetic decision.) Many of his landscapes went unexhibited for years, several of his most praised works were lost, and a huge mural that he painted in an Edinburgh church was wallpapered over, but he lived long enough to be somewhat vindicated by successful career-spanning exhibitions and an accompanying uptick in sales. "I have admired a vast range of artists in my time," he said at the end of his life, "but I have always remained steadfast and never imitated or been a disciple to any 'ism.'"
Clarke's career ranged across the British Isles: he was born in the East Midlands, trained in London, had his most fertile creative period in rural Ireland, and taught for many years at the Edinburgh School of Art. At his death, he was the oldest member of the Royal Society of Art. He died on February 10 at 101, just two months after receiving an MBE. Drunkasaskunk gets six points (1 for hit + 5 for solo).
--Hulka
A
ll content (c) 2005-2014 alt.obituaries Deadpool. All rights reserved.