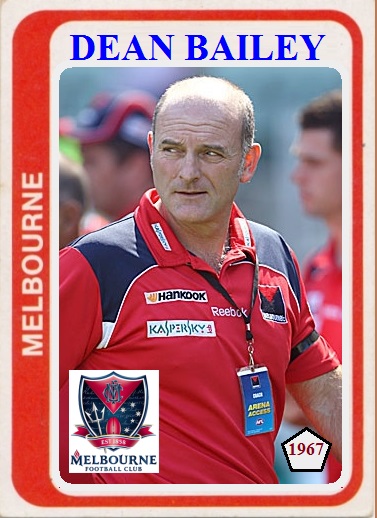 Being named senior coach of the Melbourne Football Club in 2008 must have seemed like the high point of Dean Bailey's career in Australian rules football. After a solid but undistinguished playing career, Bailey built a reputation as one of the game's first and best player-development coaches, making important contributions to premiership teams in 2000 (Essendon) and 2004 (Port Adelaide). A fellow coach at Essendon later said he "did the work that you see done by six people a
t an AFL club today" to mentor young players and hone their skills. Taking over the sad-sack Melbourne team in mid-rebuild, for his first head-coaching job, promised a high-profile opportunity for Bailey to show off his talents.
However, the club's management had different ideas. After a last-place finish in 2008, club executives, mindful that continuing poor performance would result in coveted high picks in the next year's player draft, ordered Bailey to tank the 2009 season, and Bailey complied, sitting key players or playing them out of position throughout the season. The plan worked—Melbourne ended up with both the #1 and #2 picks in the next draft—and the team made incremental improvements over the next two years, but after an especially humiliating loss at the end of the 2011 season, Bailey was sacked anyway. A subsequent league investigation cleared him of specific tanking allegations but suspended him for 16 games (by then he'd moved on to be the strategy-and-innovation coach at Adelaide) for acting "in a manner prejudicial to the interests of the AFL."
To add injury to insult, shortly after his return from suspension, Bailey was diagnosed with terminal lung cancer. He died on March 11 at age 47. Philip gets 23 points for the hit (18 points for hit + 5 points for solo).

--Hulka

A
ll content (c) 2005-2014 alt.obituaries Deadpool. All rights reserved.