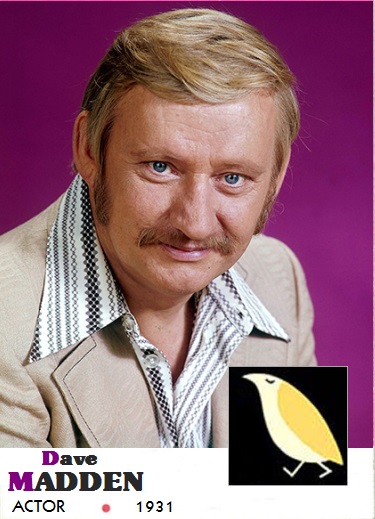 Damn you, Dave Madden. You've just ruined one of the best television trivia questions: "What is the oldest television series with all of its primary cast still living?" Until January 16, the answer to that question was The Partridge Family. Reuben, Shirley, and all of the kids—including both Chrisses and even the annoying neighbor kid from the last season—were still among the living (though Ray Bolger and Rosemary DeCamp, who appeared in a handful of episodes as the grandparents, had died). Now, trivia buffs and alt.obituaries members will have to click through dozens of IMDB lists of past TV show casts, searching for the new correct answer to the question.
Born in Ontario, Madden grew up in Terre Haute, Indiana. After serving in the Air Force, he worked the nightclub circuit as a comedian. Frank Sinatra recommended him to Ed Sullivan, who signed him for three national TV appearances. He played a counselor on the one season of the 1965 NBC sitcom Camp Runamuck and gained national fame as a regular player on the second season of Rowan and Martin's Laugh-In, but he will be best remembered for his role as the Partridge Family's beleaguered manager and comic foil for the young Danny Bonaduce. "His relationship with Danny Partridge is what made the show work," said series star Shirley Jones. "This strange, mad little boy and the grown man who was even worse as a father figure." Offscreen, the two were also close: Bonaduce later wrote that, amid his real-life family's domestic strife, Madden took him into his own home and served as a surrogate father to him.
After The Partridge Family, Madden had a recurring role as diner patron Earl Hicks on the sitcom Alice, and wrote his memoirs, "Reuben on Wry." With his death at 82, of complications from the blood disorder myelodysplastic syndrome, he also spoiled a perfectly good TV trivia question.

--Ed V and Pearly Gates

A
ll content (c) 2005-2014 alt.obituaries Deadpool. All rights reserved.