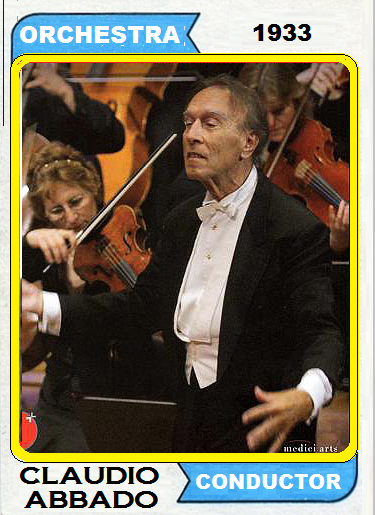 Claudio Abbado was an Italian conductor (music, not train) who had a global reach, according to his "New York Times" obit. He was the director of several of the world's most revered musical institutions, including La Scala, the London Symphony Orchestra, the Vienna State Orchestra, and the Berlin Philharmonic. He won many awards, had heaps of honors bestowed on him. There is no doubt whatsoever that he was very famous in his field.
And yet.

When anyone asks me if I've gotten a hit this year, and I reply "Yes, with the world-renowned conductor," I get blank stares. I mean very blank stares. Blank stares from people who actually listen to classical music. Who actually go to the opera. Who should know better.

And I got a solo. Which is pretty shameful, considering that news of his cancellation of performances, early retirement due to illness, whole seasons shut down, was pretty regular over the last few years. I noticed it all. Why didn't anyone else?

I will say that the maestro was not the very model of a modern, media-obsessed conductor. He was after a low profile, often comparing himself to the well-known conductor Hans Knappertsbusch, who refused to take curtain calls. He wasn't quite that bad, but it did embarrass him to take a bow. He didn't think of himself as a showman. A full-page obituary, three columns wide, disputes that.

I get my usual 5 and 5. Total: 10.
Hans who?
--Amelia
A
ll content (c) 2005-2014 alt.obituaries Deadpool. All rights reserved.