alt.obituaries Memorial Deadpool
est. 2005
Casey Kasem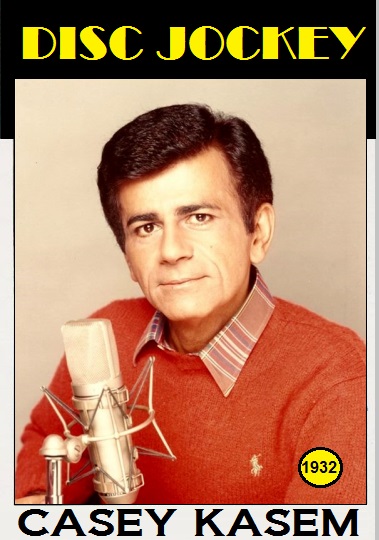 Anyone whose formative years ran through the 1970s or 1980s was likely to be influenced in some way by Kemal Amin Kasem, at least those who ever watched a cartoon or listened to the radio. When you weren't hearing Casey Kasem voice Shaggy, Robin, or Cliffjumper, you were hearing him count down the biggest hits from Tacoma to Tallahassee on

American Top 40

. You may even have been hearing him when you didn't realize it—he did more than 25,000 promos as the "voice of NBC" during the late '70s. If you were watching NBC and it wasn't sports, you were going to hear Casey.




Born in Detroit to Lebanese immigrants in 1932, Casey started out his radio career as more wacky than informational. In one of his first gigs, on Armed Forces Radio, after being drafted into Korea, he was fired by upper brass for playing too many bebop records at 6 A.M. Later in the '50s, back in Detroit, he created a "Casey at the Mike" persona, a fast-talking DJ who relied on funny voices and wild tracks. He carried this character over to Cleveland, Buffalo, and Oakland before he was ordered by a station GM to give up the funnyman angle and just be a disc jockey. Casey was initially unprepared for that, but after spotting a magazine called

Who's Who in Pop Music

in the station trash, he was able to incorporate biographical information and human-interest stories into his airplay. This transition allowed Casey to use more of his real personality and led him to Los Angeles as a fixture at KRLA in the 1960s.




Exposure in Los Angeles opened further doors doing television for Dick Clark, voice-overs for Mike Curb, and live television commercials for just about everyone. Then he auditioned for the voice of Robin in

The Batman/Superman Hour

, won the part, and, within months, became a highly sought-after voice. Roles followed during the 1970s voicing Peter Cottontail, Waldo in

Mr. Magoo

, Mark in

Battle of the Planets

, and his favorite (and certainly most imitated) voice, Norville "Shaggy" Rogers in

Scooby-Doo

. By 1977 about two-thirds of his income was coming from voice-overs.




In parallel with this voice work, though, were occasional acting jobs and the creation of quite possibly the most successful syndicated music show in radio history. Using a 14-inch reel-to-reel tape,

American Top 40

debuted on July 4, 1970, to seven stations, and culminated in a top 10 featuring the Beatles, Elvis, the Temptations, the Carpenters, and the Jackson Five. (His last show, in 2009, came when the charts were being ruled by Beyonce, Dr. Dre, 50 Cent, Ke$ha, and Lady Gaga.) By the 1980s, the show was featured on more than 500 stations in the U.S., with many more worldwide. (Armed Forces Radio didn't fire him this time.) Countdown shows had been around before, but

AT40

mastered the genre by packaging them with stories and biographical notes on the artists, accompanied by Casey's unflappable nice-guy delivery, at least for the segments that made it to air.




However, it would be inadequate to discuss his career while omitting the old shame that would create an Internet meme in the days before the Internet was a facilitator of memes: the Dead Dog Tape. In September 1985, Casey was the victim of a Long-Distance Dedication gone horribly awry.




It may come as a surprise to many, even longtime listeners, that the show didn't originally contain these iconic segments. They began in 1978 after, due to increasing song lengths, the show was unable to contain 40 songs in three hours and expanded to an additional fourth hour. The immediate effect of this decision was that the show had too much time to fill. In response, Kasem and producers Tom Rounds and Don Bustany came up with a concept that was innovative but not new. In 1964, while at KRLA, Casey read a letter from 12-year-old Elaina Tribble, sharing her experience of a George Harrison hug at San Francisco's Cow Palace, that Casey set to the Beatles' "And I Love Her." This actually got attention from record companies, which resulted in a 45 that bubbled under the Hot 100, peaking at #103. Fourteen years later, the expansion of

AT40

allowed these sorts of letters to be incorporated into the show. This resulted in tens of thousands of letters, of which an estimated 2,500 were read on the air. While most of them could be classified as romantic, eulogistic, or sentimental, there were exceptions. In one instance a freed white South African political prisoner requested a song he heard being sung by black prisoners before their executions: Paul Simon's "Mother and Child Reunion." When requests like these were read, a show that was normally reliant on trivia delivered an effect that could be quite powerful.




Unfortunately for Casey, the core demographic for

AT40

did not consist of freed South African political prisoners. Instead, the bulk of his letters were from adolescents, who, if they were fortunate, experienced no tragedies larger than the deaths of their pets. This resulted in a lot of dedications to lost pets, which culminated when a listener wanted to dedicate Henry Gross's "Shannon" to his dead dog. While trouble could have been averted had a less sappy song had been chosen, the real instigator was slotting the dedication after the Pointer Sisters' uptempo "Dare Me." Casey couldn't adjust to the mood change and let loose with an outburst that never aired but nonetheless became a staple for morning show fodder and Internet videos for decades. To his credit, he eventually acknowledged that while he didn't think that tape represented the real Casey, he had definitely flipped out.




Deadpool players, though, kept their feet on the ground when assessing Casey's chances in 2014. It will come as no surprise that the countdown master inspired plenty of hits this year, although, unfortunately, there weren't forty of them. They could be heard from fine deadpool players around the world, such as Allen Kirshner, Another Lurker, Auntie B (first hit of the year), Dead People Server Curator, Deceased Hose, Drunkasaskunk, Eternity Tours, Fireball, Grim McGraw, Hulka, Jefferson Survives, Keister Button, King Daevid, Loki, Monarc, Ray Arthur, Tim J., and Worm Farmer, who all get five points in exchange for having their future dedications go unanswered.
--Monarc
A
ll content (c) 2005-2014 alt.obituaries Deadpool. All rights reserved.