alt.obituaries Memorial Deadpool
est. 2005
Bob Lanier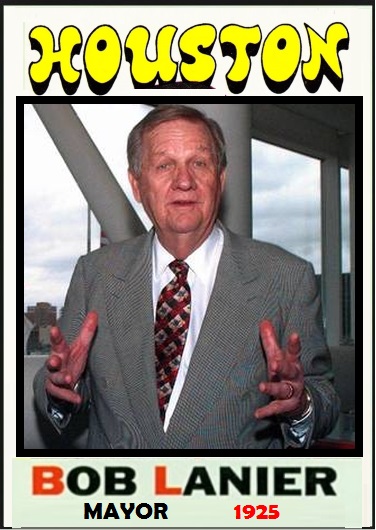 Bob Lanier departed from the stereotype of the cowboy-hat-wearing, cigar-chomping, good-old-boy Texas politician by being, unlike many of his peers, smarter than the average box of rocks. After clawing his way out of poverty to become a successful lawyer and property developer, he cashed out much of his real-estate empire and devoted the rest of his life to public service, becoming a strong voice in Texas infrastructure development as highway commissioner and head of METRO, Houston's transit authority. He was also a longtime kingmaker in Houston politics, once proudly saying, "I take to smoke-filled rooms the way a polar bear takes to ice."




When Houston Mayor Kathy Whitmire announced plans to develop an ambitious monorail mass-transit system, Lanier was vocal in his opposition to the project. Whitmire fired him from his METRO position and then invited reporters to contact her for comment at Lanier's annual Christmas party. Incensed, Lanier ran against her in the next mayoral election and won. Nearly his first act as mayor was to scuttle the monorail project and divert its funding to beefing up the police force, resulting in a large drop in the local crime rate.




In keeping with his infrastructure background, one of Mayor Lanier's signature projects was an effort to improve the unevenly paved streets and cracked sidewalks of Houston's urban core. Though critics called it a boondoggle to line developers' pockets for performing unnecessary work, the project succeeded in revitalizing some neglected areas of the city. Both during and after his time as mayor, Lanier was also a fierce advocate for diversity in government and business. In 1997, term-limited from running for a fourth term as mayor, he appeared in a TV ad opposing a ballot proposition to end affirmative-action policies in city hiring and contracting, urging viewers not to "turn back the clock to the days when guys who look like me got all the city's business."




Bob Lanier died on December 20. He was 89. Appropriately, it's a solo hit for Team Bubba: 10 points (5 for hit + 5 for solo).

--Hulka
A
ll content (c) 2005-2014 alt.obituaries Deadpool. All rights reserved.