alt.obituaries Memorial Deadpool
est. 2005
Bob Hastings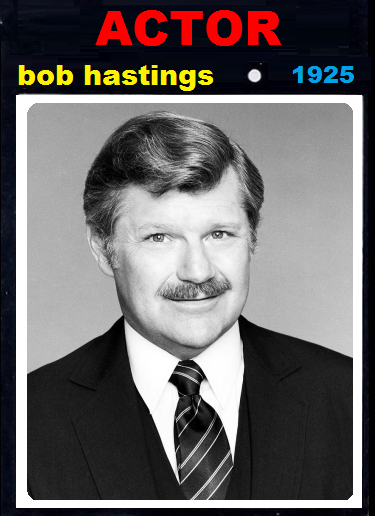 Bob Hastings was probably best known for a 50-year-old sitcom,

McHale's Navy

, in which he played Lt. Carpenter, not-always-competent assistant to the bombastic Captain Binghamton. But he had a very long career in Hollywood, from playing Hal in

Captain Video and His Video Rangers

in 1949 to voicing Commissioner James Gordon in a Batman cartoon in 2003. He was in more than 120 different television shows, which might be something of a record. Like his younger brother Don Hastings, he was in a soap opera (but not playing the same character for 50 years).




Hastings was born in New York on April 18, 1925, and got his first work in radio in the mid-1940s. He went from radio into early TV and wound up with a recurring role on

The Phil Silvers Show

. He had continuing parts on many series, including

The Munsters

and

All in the Family

. He battled cancer on and off during the last 13 years of his life, finally succumbing to pancreatic cancer at the age of 89 on June 30, 2014 (dying the same day as director Paul Mazursky and writer Frank M. Robinson).




Bob Hastings was the first Hollywood actor I ever met, on the backlot of Universal Studios in August 1968. He signed my Disneyland autograph book, and if I could find it, I'd scan it.

--Dead People Server Curator

A
ll content (c) 2005-2014 alt.obituaries Deadpool. All rights reserved.