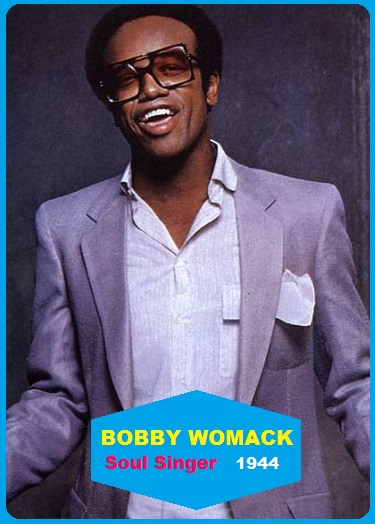 "I can't sleep at night
When you are on my mind
Bobby Womack's on the radio
Singing to me
'If you think you're lonely now'"
—Mariah Carey, "We Belong Together"
As accolades rained down immediately after Bobby Womack's death on June 27, it was interesting to see the different perspectives offered by various news agencies regarding his place in the rock and soul pantheons. I'm kidding, of course—most of the cookie-cutter obits cribbed off of each other, the notable exception being the
New York Times
obit, which concentrated on his contributions as a songwriter and used the phrase "Royalty of Soul" in its headline as a double entendre, noting his comfortable living off royalties from three of his key songs.
Bobby was born in the '40s, sang gospel with his brothers as a kid in the '50s, formed a group with his brothers in the '60s, and was a top-notch solo act in the '70s. He thought his big break had arrived when Sam Cooke signed his group (the Womacks, aka the Valentinos) and they put out their first hit "Lookin' for a Love" (covered 10 years later by the J. Geils Band, who made it their signature stage song, and, after the renewed interest, a huge hit for Womack's remake of his own song). He was unaware, at the time, that a bigger break was to come when the Rolling Stones recorded another of his songs, "It's All Over Now" (co-written with Shirley Womack), and transformed it into a major hit (their first U.K. #1 and a Top 40 hit in the U.S.). He uttered something along the lines of "Let 'em get their own songs!" before being persuaded to let them record it. After the first royalty check arrived, he reportedly said, "Mick Jagger can have any song he wants."
Sam Cooke was a huge influence on the group and particularly Bobby, so much so that just after Cooke was shot to death, Bobby consoled Cooke's widow. He consoled her so hard that he asked her to marry him. This precipitated a visit from friends and family of Cooke, who beat Bobby so hard that his teeth came through his cheek. Undeterred, he married Cooke's widow less than four months after Cooke's death. They divorced in less than two years. (To add to the intramural family events, Cooke's daughter later married Bobby's brother.)
Womack came into his own as a solo performer in the late '60s and early '70s, with such hits as "That's The Way I Feel About Cha," "If You Think You're Lonely Now," his remake of his "Lookin' for a Love," "Nobody Wants You When You're Down and Out," and "Across 110th Street," which was later used to great effect in the film
Jackie Brown
and much later in
American Gangster
, precipitating more royalty checks.
This is not to say Womack's life was all about the royalty cheese. Over his career, he suffered from drug addiction, angry in-laws, diabetes, prostate cancer, angry ex-wives, heart trouble, colon cancer, pneumonia, and rumors of an onset of Alzheimer's. Despite this, he remained a talented performer and writer all the way up to the time of his death. He released a well-received album as recently as 2012 and had recorded a new album (his 28th) that will soon be released. It is titled
The Best is Yet to Come
.
--Walking Dead Dude
A
ll content (c) 2005-2014 alt.obituaries Deadpool. All rights reserved.