alt.obituaries Memorial Deadpool
est. 2005
Bobby Keys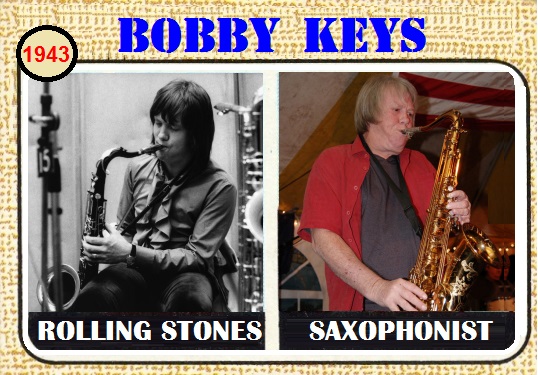 Hard to say what was most amazing about Bobby Keys. Most would say his crazily instinctive music talent; he never learned to read music, but became one of the most accomplished sidemen in the music industry. Perhaps more impressive is the fact that he managed to play that role for almost 50 years—that is, to actually LIVE long enough to pull it off. Here's a guy who got kicked out of the Rolling Stones by his best friend, Keith Richards, for partying too hard. That kind of sustained self-abuse takes dedication.




Keys's life on the road with the Stones was every teenage boy's rock-star dream. He took champagne baths with French models, smuggled smack through customs in his saxophone, threw TVs out hotel windows. A personal favorite: during one (presumably) drug-fueled speedboat trip around the Mediterranean in 1971, Keys and Keith Richards cruised up to an anchored American aircraft carrier and yelled out to some sailors at a porthole that they were looking for weed. The sailors tossed them a few bags of pot and, in return, Keys gave them the locations of the best whorehouses in the nearby village and a spectacular story to tell.




Cheers to both the music and the debauchery. Hoping Bobby's heaven, like his life, is brimming with sex, drugs, and rock 'n' roll.
--TGV

A
ll content (c) 2005-2014 alt.obituaries Deadpool. All rights reserved.