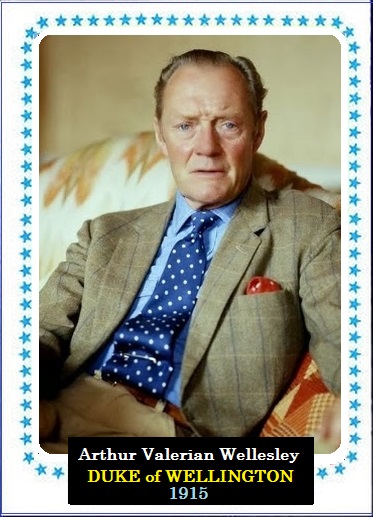 The story of Arthur Valerian Wellesley, 8th Duke of Wellington, 8th Prince of Waterloo, 9th Duke of Ciudad Rodrigo (to 2010), offers us two cautionary tales:
1.
Don't name your kids after the bric-a-brac.
2.
If your parents ignored No. 1, learn to surmount it.
The Duke's parents named their son after a bust of Emperor Valerian that sits in the ducal seat at Stratfield Saye. They knew nothing about the actual Emperor Valerian, a persecutor of Christians and a sybaritic, incompetent general whose last position in life was as footstool to King Shapur I of Persia; they simply liked the bust.* Hardly an appropriate name for a soldier, especially one intending to make a career of it.
And yet he did. He joined the Army in 1936 as plain old Mr. Valerian Wellesley, stayed in throughout World War II (during which, according to the
Telegraph
, he made the acquaintance of a princess and a duck), and remained on active duty as Marquess of Douro until 1968. In retirement he became one of those reactionaries who resents that the world isn't exactly as it was when he was 25, not particularly caring if that would be good for anyone but him. He lived for hunting, dogs, and his late wife of 65 years.
Valerian is also the name of an herb used as a sleep tonic. No wonder.
If victory belongs to the most persevering**, the Duke of Wellington, who died at age 99, won at life. I suspect he would have liked to persevere six months longer to witness the 200th anniversary of Waterloo, but his death on December 31 rewarded Charlene's perseverance in the AO Deadpool with 17 points: two for age, five for the solo, and ten year-end bonus points.
*Legend has it that King Shapur later had Valerian executed and his body skinned, stuffed, and mounted. It's good to be the king.

**Napoleon. He would have hated that.


--Charlene

A
ll content (c) 2005-2014 alt.obituaries Deadpool. All rights reserved.