alt.obituaries Memorial Deadpool
est. 2005
Alexander Imich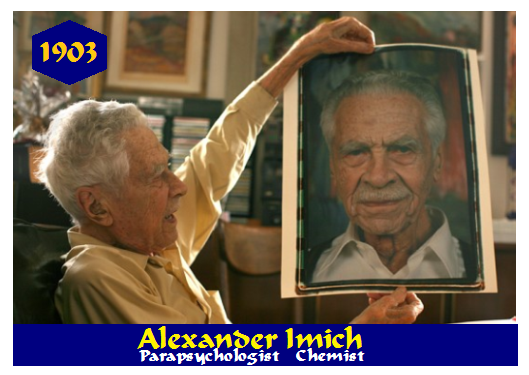 Alexander Herbert Imich was an academic, a war victim, and a record holder as well.


Born into a Jewish family on February 4, 1903, in Częstochowa, a Polish city in the Russian Empire, Imich joined the Polish army in 1918 at the age of 15, together with all of the members of his school class. After fighting the Bolsheviks in the war, Imich started his academic career as a student in zoology at the Krakow university, switching later to chemistry and finally joining the Polish parapsychological society in the 1920s. His works on a "medium" called Matylda made him famous on the expert circuit, but all of his published materials got lost during the mists of wartime.


At World War II, Imich and his wife Wela flew to the Soviet Union to escape the Nazis. Both declined to take Russian citizenship and were sent to a work camp. Following their liberation in 1952, the Imichs went to New York, where Alexander restarted his academic work. He published his first book in 1995 and became president of the Anomalous Phenomena Research Society. Just a few weeks before his death, Imich was named the world's oldest living man by the Guinness Book of World Records. This title normally disqualifies picks for the AO Deadpool, but Imich was one of only a few record holders who was not only famous for his age.


He resided in Manhattan until his death on June 8, 2014, at the age of 111, which brought six points to WEP (one for age and five for solo).
--WEP
A
ll content (c) 2005-2014 alt.obituaries Deadpool. All rights reserved.