alt.obituaries Memorial Deadpool
est. 2005
Alberta Adams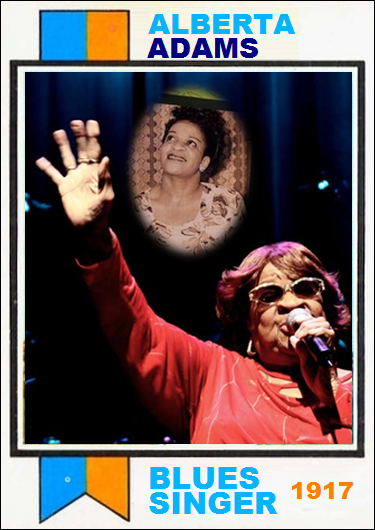 She was known as the Grand Dame of Detroit Blues, though she interpreted jump blues and Chicago blues as well.


Alberta Adams was born as Roberta Louise Osborn on July 26, 1917, in Indianapolis, Indiana, and was raised by an aunt in Detroit, Michigan, where she began her career as a dancer during the late 1930s. Her career as a singer started a bit later, at the Club B & C, where she sang with John Lee Hooker, Big Maceo, and Eddie Kirkland.


In 1952, Adams was discovered by the Chess brothers, who gave her a contract at Chess Records. Later, she worked for the Savoy label for her single "Say Baby Say" and as a member of the Bluesettes. During her active time, Adams sang with Duke Ellington, Louis Jordan, T Bone Walker, and some other well-known musicians. Her voice was strong enough to be heard between trumpets.


Adams remained active in the Detroit club scene until she had a comeback in the late 1990s. She made four records—

Born with the Blues

(1999),

Say Baby Say

(2000),

I'm on the Move

(2004), and

Detroit Is My Home

(2008)—and appeared at festivals and gave concerts until December 2014. Her death on Christmas Day in Dearborn, Michigan, at the age of 97, occurred only days after her final concert. She leaves 17 points for WEP: two for the hit, five for the solo, and ten as a year-end-bonus.


--WEP

A
ll content (c) 2005-2014 alt.obituaries Deadpool. All rights reserved.